About
News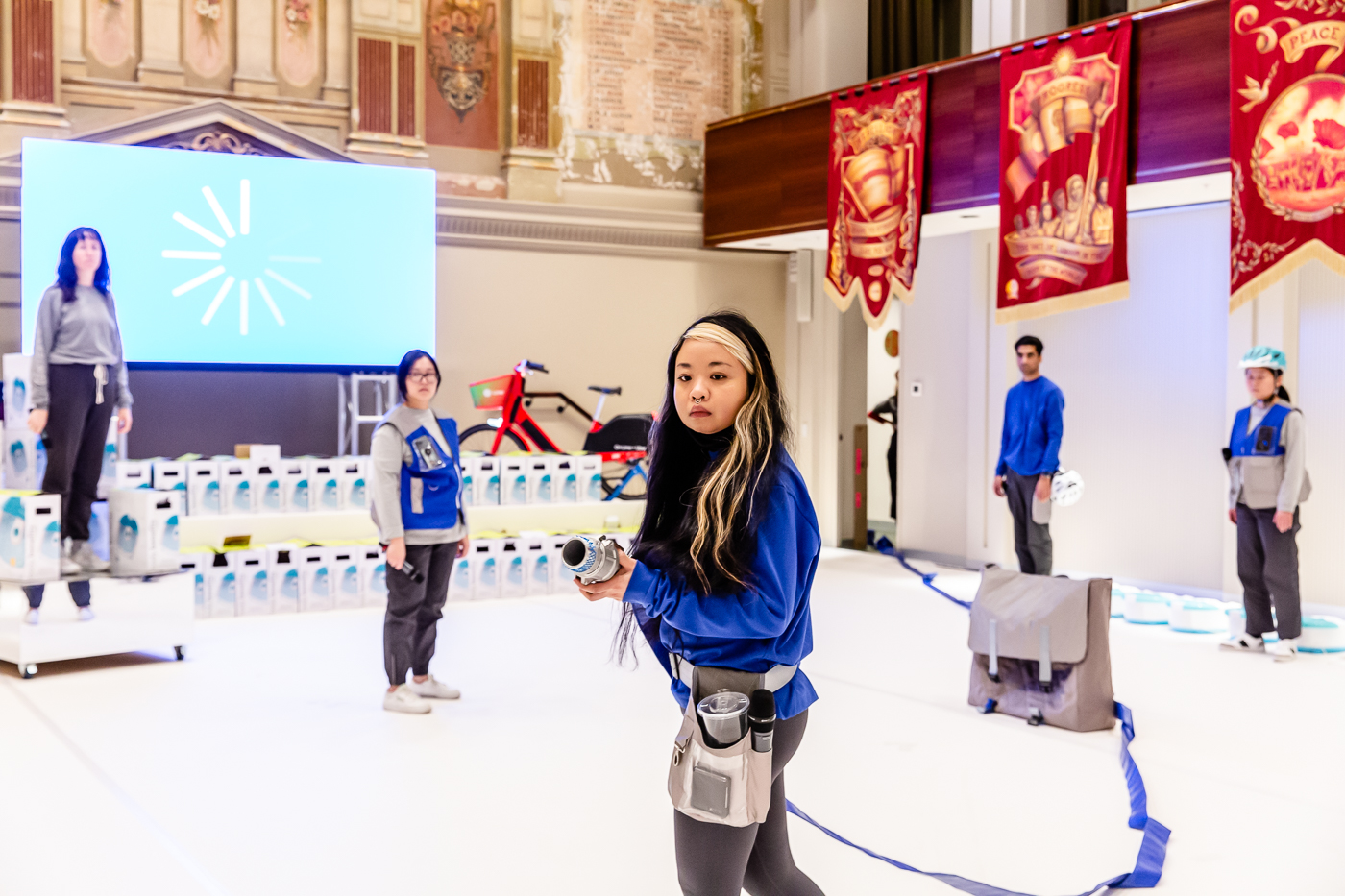 APHIDS is looking for a powerful feminist to bring their prowess to our team.

Are you the new APHIDS Executive Producer?
WHO ARE WE
APHIDS is a 27-year-old artist-led experimental art organisation based in Naarm (Melbourne), Australia. Collaborative and future-focused, APHIDS is led by Co-Directors Lara Thoms, Mish Grigor and Eugenia Lim. The work of APHIDS is feminist, intersectional, angry and funny; bringing artists into meaningful exchange with audiences through performance, critical dialogue and unpredictable encounters in the public realm.
THE OPPORTUNITY
The Executive Producer is a new role who will be an integral member of the team, supporting APHIDS's program and ensuring the company runs smoothly. We are looking for a skilled, excellent person who can work in a nimble and responsive way, in collaboration with the directors and our artistic community. The company works with stakeholders large and small, on experimental projects multi-year and miniscule, and has an unusual structure of multiple artists as directors. This democratic model is an exciting challenge and to be met with gusto by an adventurous mind who can manage both top level business alongside getting their hands dirty in the day-to-day. A sense of humour and love of the arts is a must. We can't wait to hear from you.
We are an Equal Opportunity Employer and encourage applicants with diverse backgrounds and experiences. Please let us know if you would prefer to apply in a different format or if you have any questions, through contacting Lara at lara@aphids.net.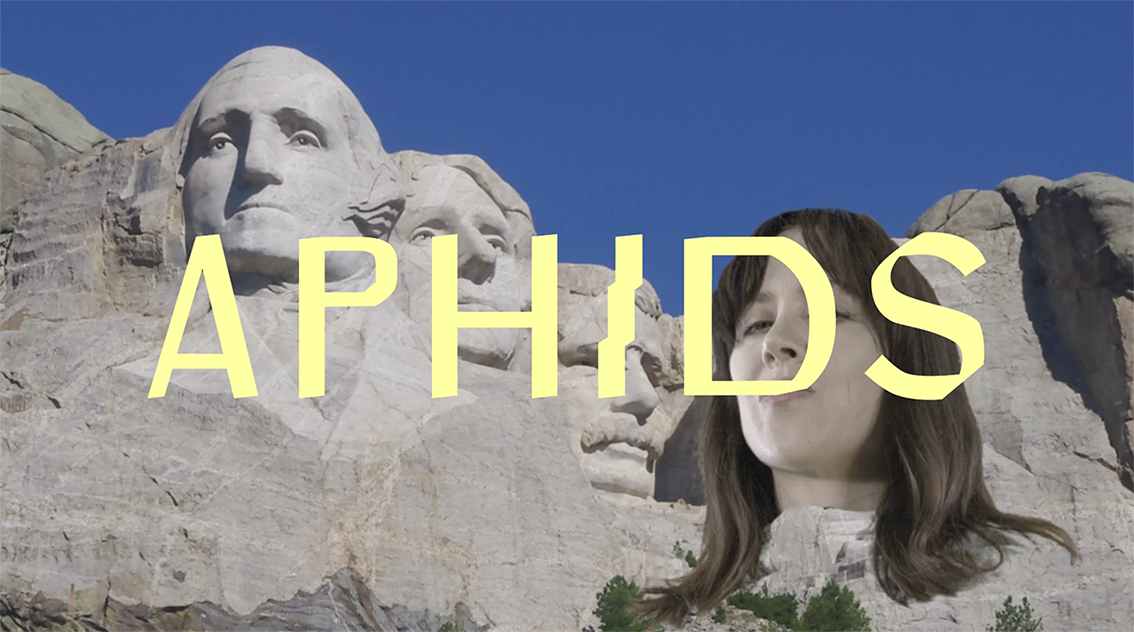 JOIN THE COVEN — APHIDS ART SYNDICATE
Join our art syndicate — the APHIDS coven. APHIDS is a 27-yr-old art organisation dedicated to expressing urgent ideas across performance, screens and public space. By joining us you will help support the future of feminist artists and important new artworks. As a not-for-profit organisation with charitable status, we graciously accept tax deductible donations of all sizes. This year, we are pleased to offer our art coven some loving custom gestures and gifts to further welcome you into the fold.
$100 — Coven Ally
– Lots of love online (social media shout outs and online acknowledgement)
– A VIP invite to our program party event
$500 — Coven member
– Lots of love online
– A VIP invite to our program party event
– Limited edition APHIDS 2021 merch hat
– A personal tour of our beloved Collingwood Yards home
– Access to behind-the-scenes work-in-progress events
$1000 — Bosom Buddy
– A VIP invite to our program party event
– Limited edition APHIDS 2021 merch hat
– A limited edition APHIDS publication
– A personal tour of our beloved Collingwood Yards home
– Access to behind-the-scenes work-in-progress events
– Plus opening night invitation to our keynote APHIDS performance
$5000  — Total Gem
All of the above plus
– An intimate VIP dinner with the APHIDS directors, chair and selected collaborators at Collingwood Yards
$10,000 — Ultimate Angel
All of the above plus
– a limited edition A3 framed photographic print from APHIDS' work EASY RIDERS signed by Eugenia Lim, Lara Thoms and Mish Grigor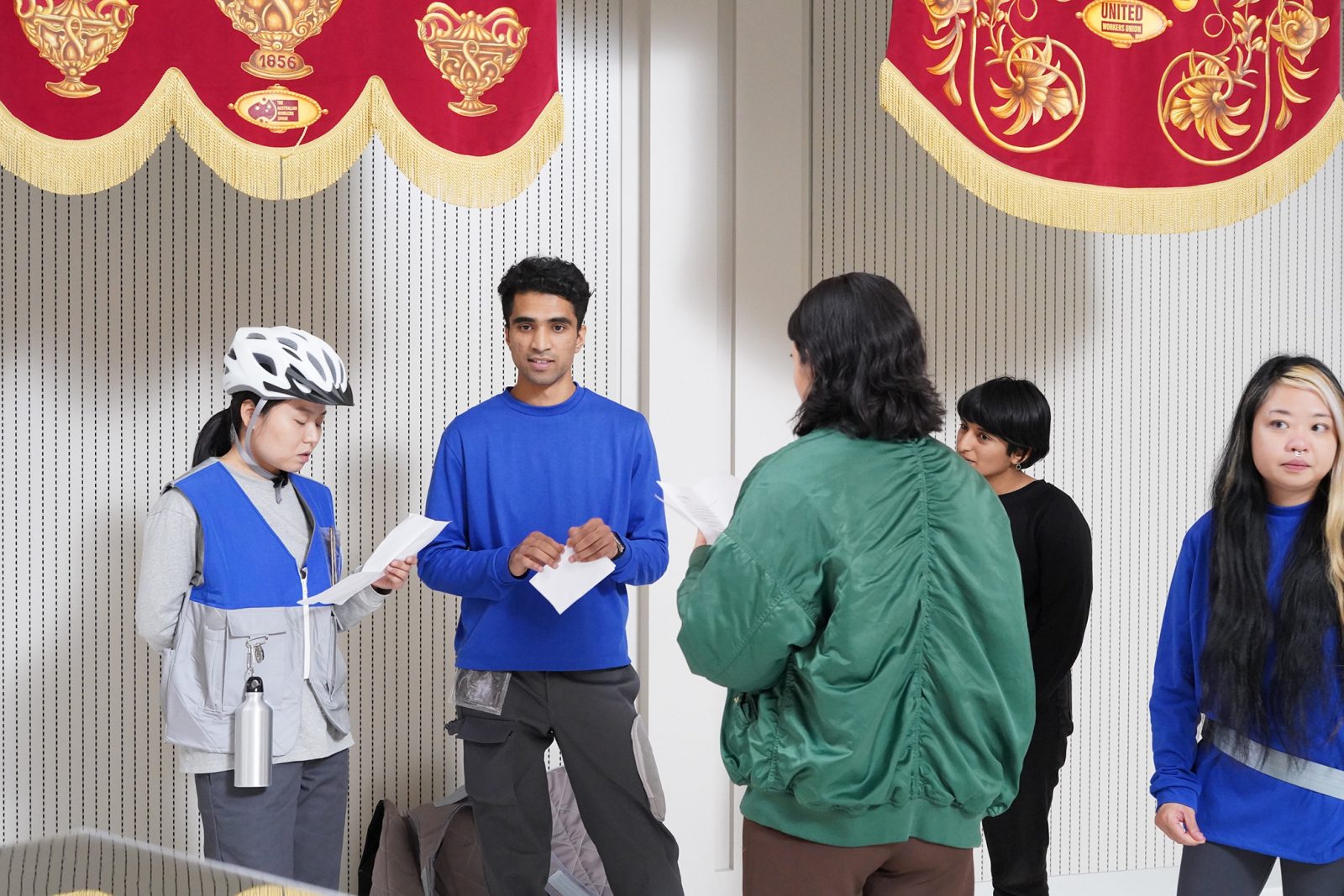 RADIO NATIONAL PROFILE: EASY RIDERS
'Seeing these worker's performances in Trades Hall is powerful, and it's left me reconsidering my relationship to all the apps that have made my life so much easier, particularly in the past year.' — Hannah Reich
In the lead up to our lockdown thwarted performance at RISING, ABC's Hannah Reich profiled EASY RIDERS for Radio National. In this profile she spoke with worker-performers Jess Wen and Cher Tan, and Eugenia Lim.
You can tune in from 39:10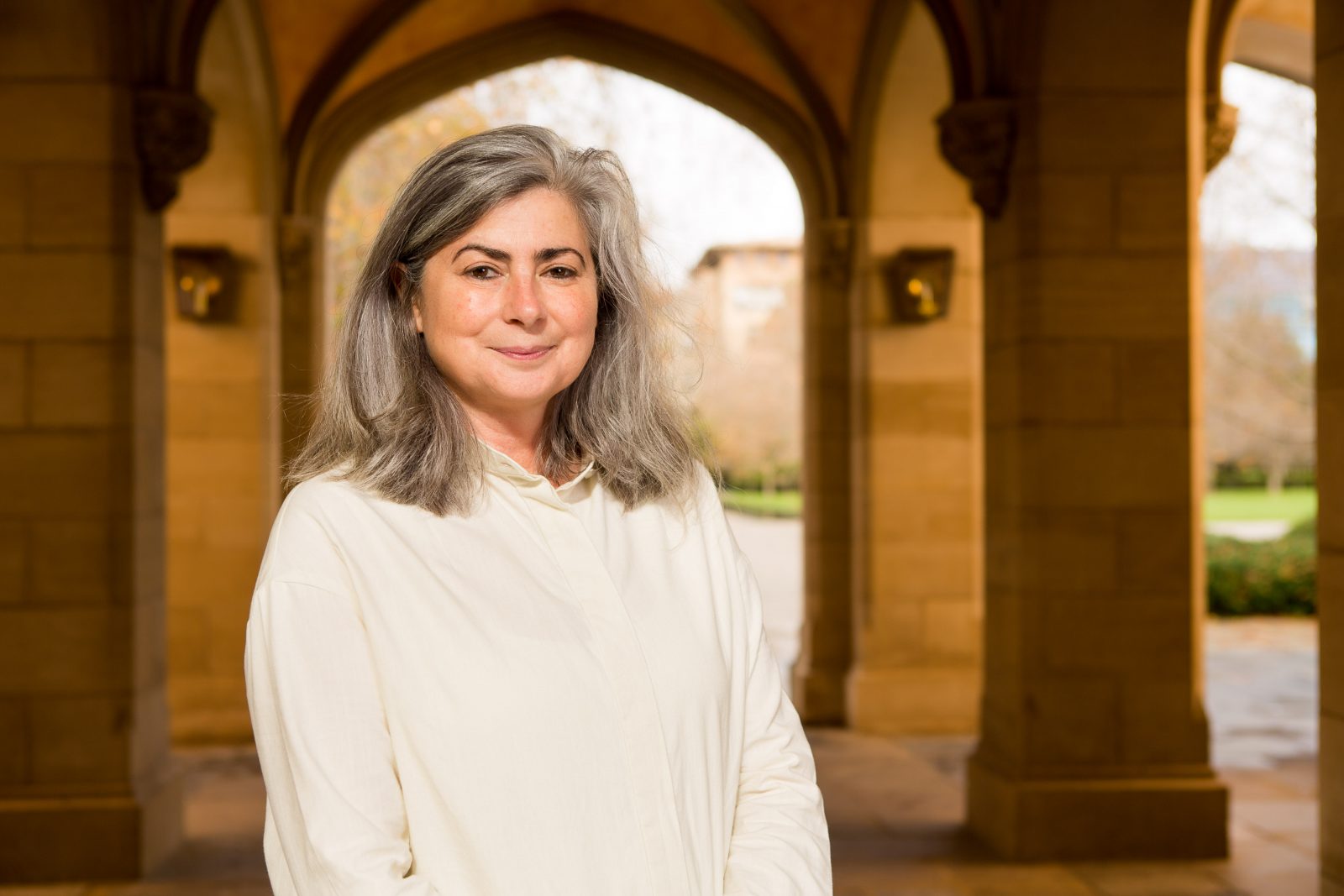 WELCOMING MEREDITH MARTIN

APHIDS would like to honor the tenacity, care and leadership of Vivien Allimonos, the departing chair of the APHIDS committee, of which she was a member for ten years! Vivien played a key role in supporting the current directors, assisting the company through the impacts of COVID-19 and the recruitment of our new chair, Dr. Meredith Martin. We thank Vivien for her amazing contribution to the company which will be felt in years to come.
We are beyond thrilled to announce Dr. Meredith Martin as our new chair. Meredith has over 20 years' experience working at the intersection of higher education, the creative industries and the public sector as a researcher, senior manager and strategic advisor. Throughout her career she has maintained a strong interest in the social impacts of cultural and public engagement, with a focus on accessibility, social inclusion and gender parity. She is the Director of the Pathways to Politics Program for Women, which she established at the University of Melbourne with Carol Schwartz AO in 2015, to redress the underrepresentation of women in Australian parliaments. Welcome to the coven Meredith!
2021 PREVIEW @ WEST SPACE
In early March APHIDS opened the doors for our community at West Space, in our new home of Collingwood Yards. In a collaboration with conceptual catering duo Long Prawn, a series of pies was made to represent different works associated with the 2021 program. Eugenia, Lara and Mish shared key ideas and visions for upcoming works, and toasted to a bold new year of feminist experimental art making — with works exploring the gig economy, class, death and Disney.
Many thanks to Sui Zhen for the music, Noisy Ritual for the wine, and xxflos for the flowers; and to all of our newest, nearest, and dearest, that made it down.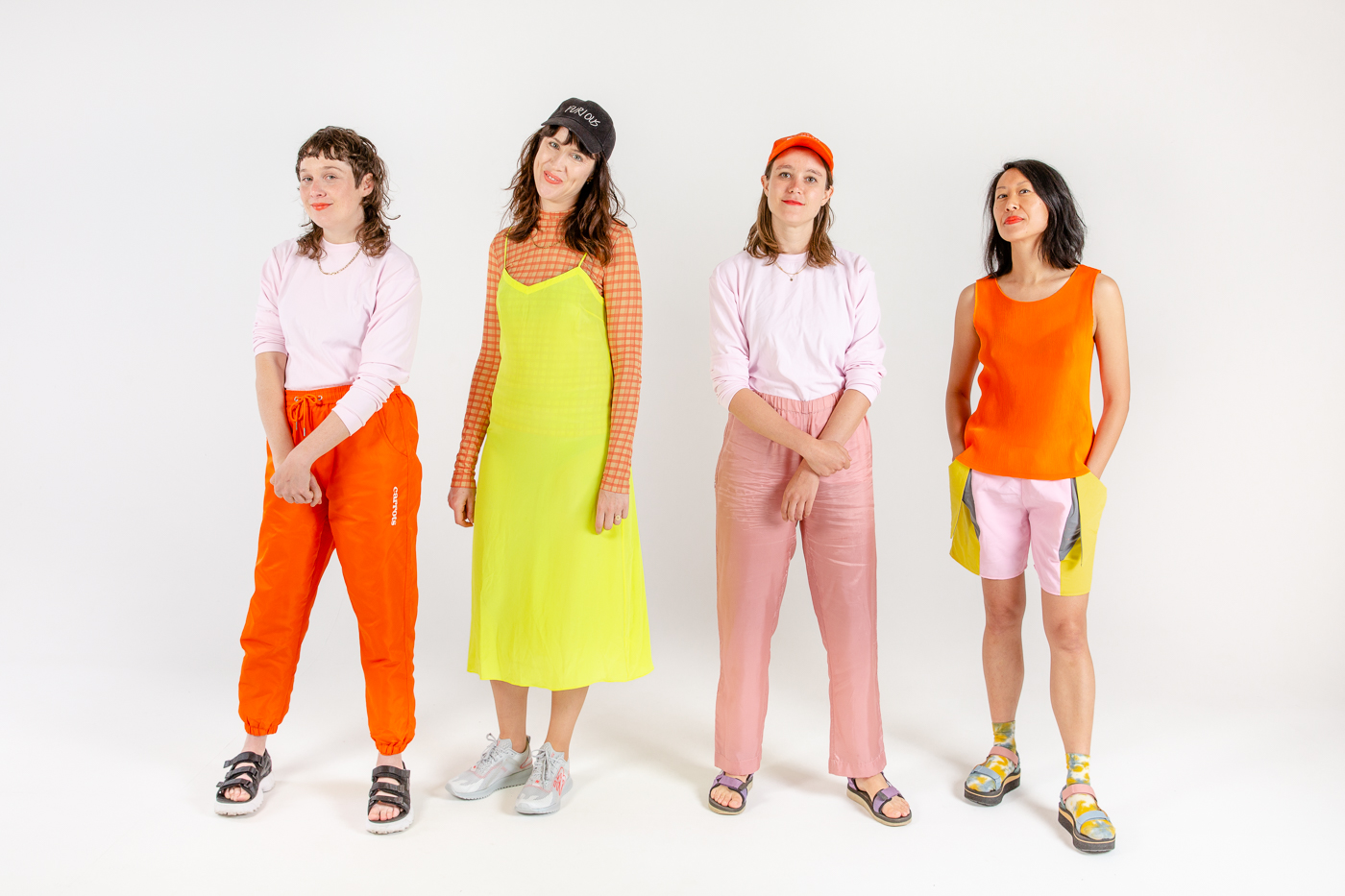 INTERVIEW
APHIDS SITE RESPONSIVE RESIDENCY AT QVWC
In this interview APHIDS' Lara Thoms and Eugenia Lim chat to Jessamy Gleeson about our residency throughout February–March at Queen Victoria Womens Centre for Feminist Futures, a programme of workshops, developments and events based on the intersection of care, work, class, and feminism. We also reflect on the history of the organisation and our vision, and include a mini-interview with a mini-APHID.
Feminist Futures initiative is made possible through generous funding from Creative Victoria, The City of Melbourne, and support from the Queen Victoria Women's Centre.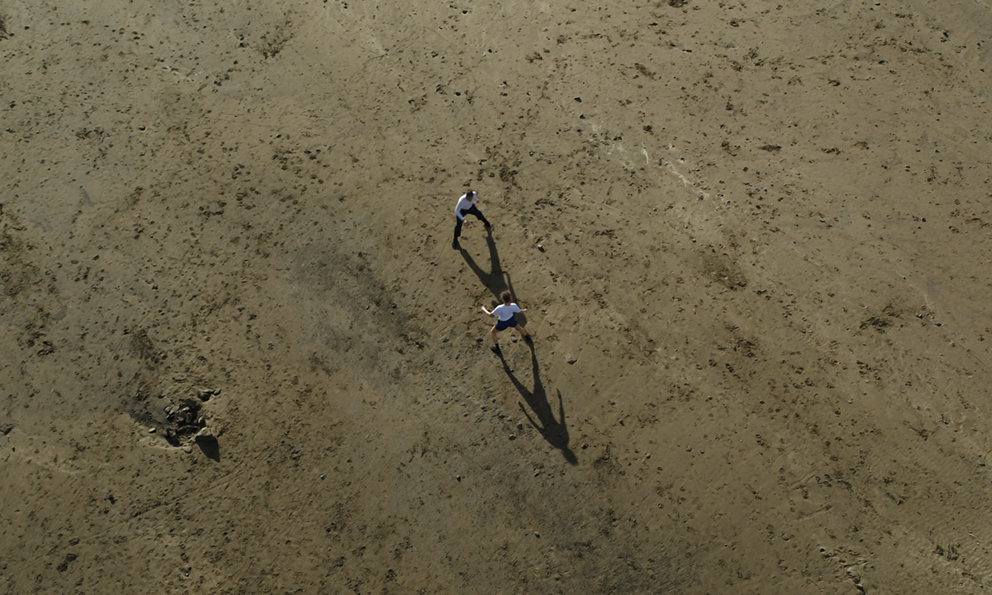 Call out for participants — drone choreography/cinematography workshop
Artist callout for a one-day paid creative development opportunity
APHIDS is looking for two female / non-binary Victorian-based artists interested in the intersections of art, technology, the body and moving image to join us for a paid, full-day workshop on Wednesday 3 February 2021 at Queen Victoria Women's Centre in Melbourne. The workshop will be held in-person (in Covid-safe conditions) and led by choreographer/filmmaker Sue Healey. Two selected artists will join a small group of approx 7-8 participants in total, including APHIDS artists and collaborators. Each artist will receive a fee of $320 + GST and superannuation. Together we'll workshop and learn more about the potential of drone-operated cinematography.
WHO ARE YOU?
Women, non-binary people, queer, trans, people of colour, disabled and First Nations artists are encouraged to apply. You have some experience of working with video/moving image and/or choreography and performance. You are a practising artist at any stage of their career who wants to learn more about the artistic possibilities of tech. You are available on Wed 3 Feb to attend in person.
To apply, please tell us in 100 words or less:
– about you and your art practice, including any experience with video, choreography and performance
– If you have particular access requirements or live regionally in Victoria, please let us know and we will do our best to accommodate you
– a link to your website or past work (if sound/moving image-based, no more than 5mins duration)
Applications due Wed 20 Jan, 11.59pm via this form. Applicants will be notified by Fri 22 Jan of the outcome.
This workshop is part of APHIDS' Feminist Futures initiative and is made possible through generous funding from Creative Victoria, and support from the Queen Victoria Women's Centre.
MONASH UNIVERSITY COMMUNICATION DESIGN STUDENTS
A Singular Phenomenon Design Project
Monash Design students have spent a big part of 2020 delving deep into APHIDS 2015 performance A Singular Phenomenon. Led by their teachers Warren Taylor and Damiano Bertol, the students made a series of posters, videos and paraphernalia to the theme of the project, and were asked to consider the concept of theatre as both an original form and as a text that is reshaped through various iterations and performances.
'A Singular Phenomenon explores an iconic moment in Australian popular culture through a multitude of related and random events which together form a bizarre narrative of signs and symbols, an inter-connected framework of influence, circumstance and cultures.' — Warren Taylor and Damiano Bertol
We love them!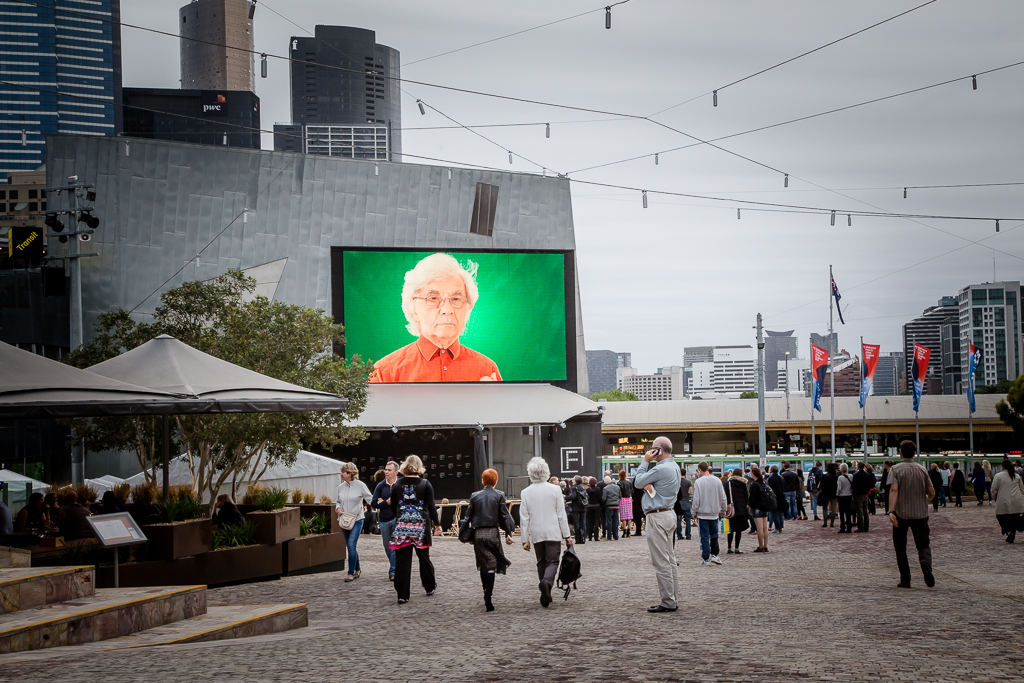 JOIN THE APHIDS COMMITTEE
After a solid 10 years on the APHIDS committee we are farewelling our Chair Vivien Allimonos. Vivien has been with us through multiple iterations of APHIDS and has overseen recent transitions. We thank her hugely for her time, energy and guidance.
Aphids is seeking an experienced Chair of the board to support APHIDS into the future.
Specific Responsibilities:
To ensure the Committee functions effectively, covering the following:
– Together with the Committee Members and the Chief Executive/Artistic Director(s), identify the skills and experience required on the Aphids Committee.
– Source new Committee Members and support effective succession and the strengthening of the Aphids Committee.
– Chair meetings effectively to reach clear, consensual decisions in line with the objectives and strategy of Aphids.
– Work closely with the Chief Executive/Artistic Director(s) to ensure the development of high-quality agendas and outputs for Aphids Committee meetings
– Encourage the effective and positive participation of all Committee Members at Aphids Committee meetings and on behalf of Aphids more generally, developing a strong sense of active engagement and shared responsibility.
– Work with the Committee Members to ensure effective Aphids Committee development is in place including comprehensive Committee Members induction.
You can view the full position description here, and please get in touch for more information through info@aphids.net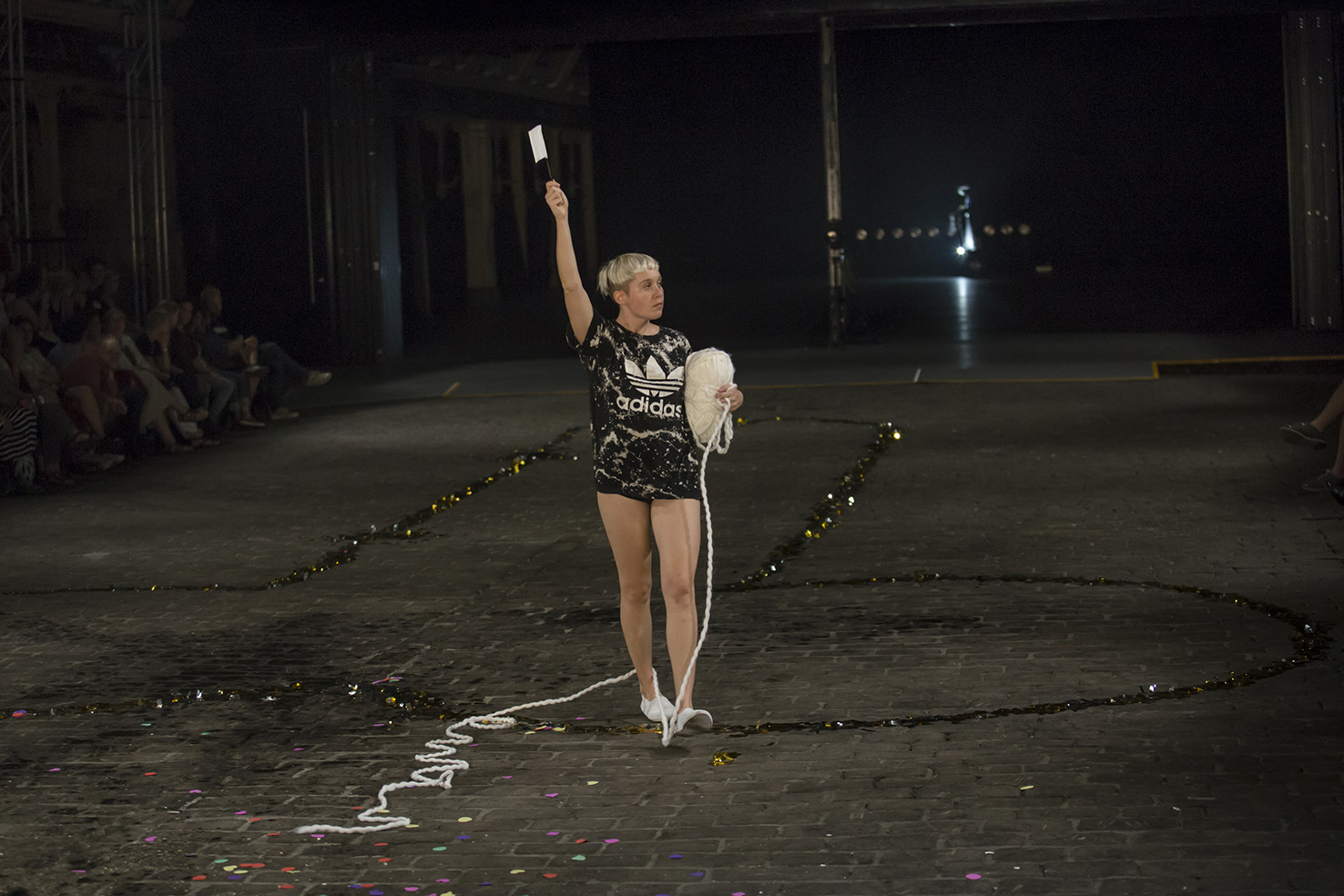 IMMACULATE
APHIDS stands in full support of artist Casey Jenkins, and her work IMMACULATE, which has recently had its funding rescinded by the Australia Council, in an intervention that sets a deeply concerning precedent for artists across the country.
In 2016 APHIDS paid homage to past work of Casey Jenkins in Howl, a performance work based around artworks that have caused public controversy throughout the western canon. APHIDS firmly believes that works such as IMMACULATE are vitally important in this country, to promote conversations and awareness of the lived experiences of those put into marginalised positions by our society, and conversely, to uncover the way society can and has been deeply unsettled by art.
The removal of funding by the council, without any legal grounds, is an intervention that signals to a conservative set of morals that sit outside of the jurisdiction of the funding council to enforce. As Vitalstatistix's Director Emma Webb notes: 'The Australia Council, whose function is to support artists and uphold freedom of artistic expression at arms-length from Government, needs to feel empowered to stand by artists – especially when they are subjected to concerted campaigns by the IPA, religious conservatives and other assorted haters.'
As Webb states: 'This kind of extraordinary intervention sets a precedent for all artists funded by the Australia Council. It has created an enormous amount of fear and trepidation amongst artists, especially those most vulnerable to these types of attacks, such as queer artists and artists whose practices are embodied and/or experimental, as well of those who have stood up for Casey.'
Finally, APHIDS is excited to hear of the recent support for IMMACULATE provided by Switzerland's Gwärtler Foundation.
You can read Casey's statement here
And the referenced statement from Vitalstatistix here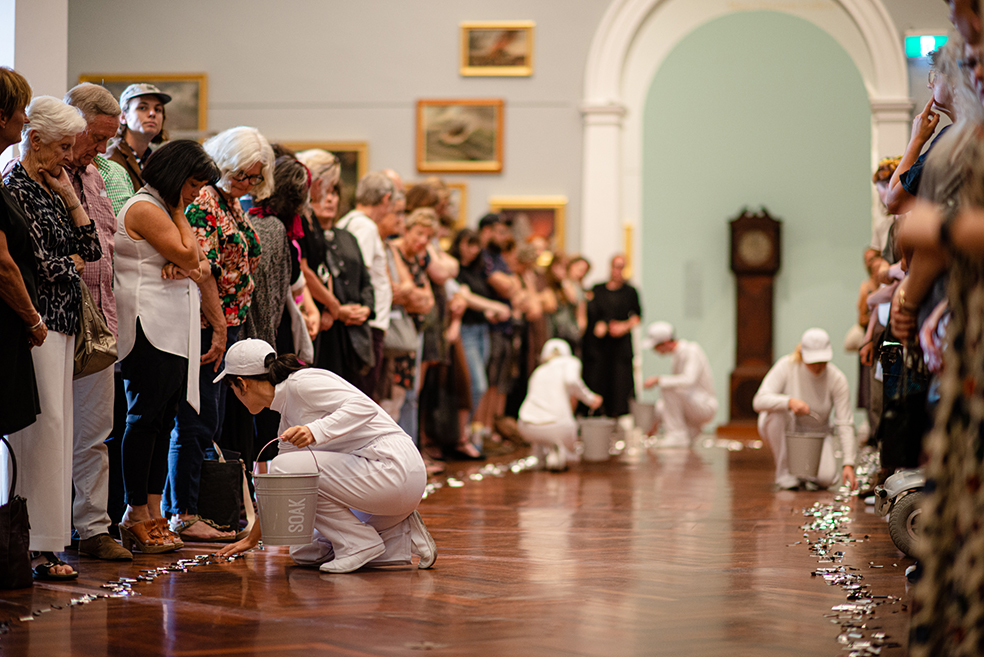 SUPERMASSIVE DROP INS
We want to speak with YOU! Are you an emerging artist who wants input on something you've had cooking? An experimental artist who wants help thinking through a fresh idea or a new form? Do you want to confess your wildest artistic desires or thorniest dilemmas?
Following the success of last years SUPERMASSIVE Drop In Centre we are returning Monday October 5th and offering ~free~ Drop In sessions held online in a pandemic-friendly format. Get in quick as we booked out fast last time.
Sessions will be a 30 minute conversation with one of APHIDS co-artistic directors, Lara Thoms, Mish Grigor or Eugenia Lim. Sessions can be booked solo or in small groups and no formal preparation is required.
We look forward to meeting you!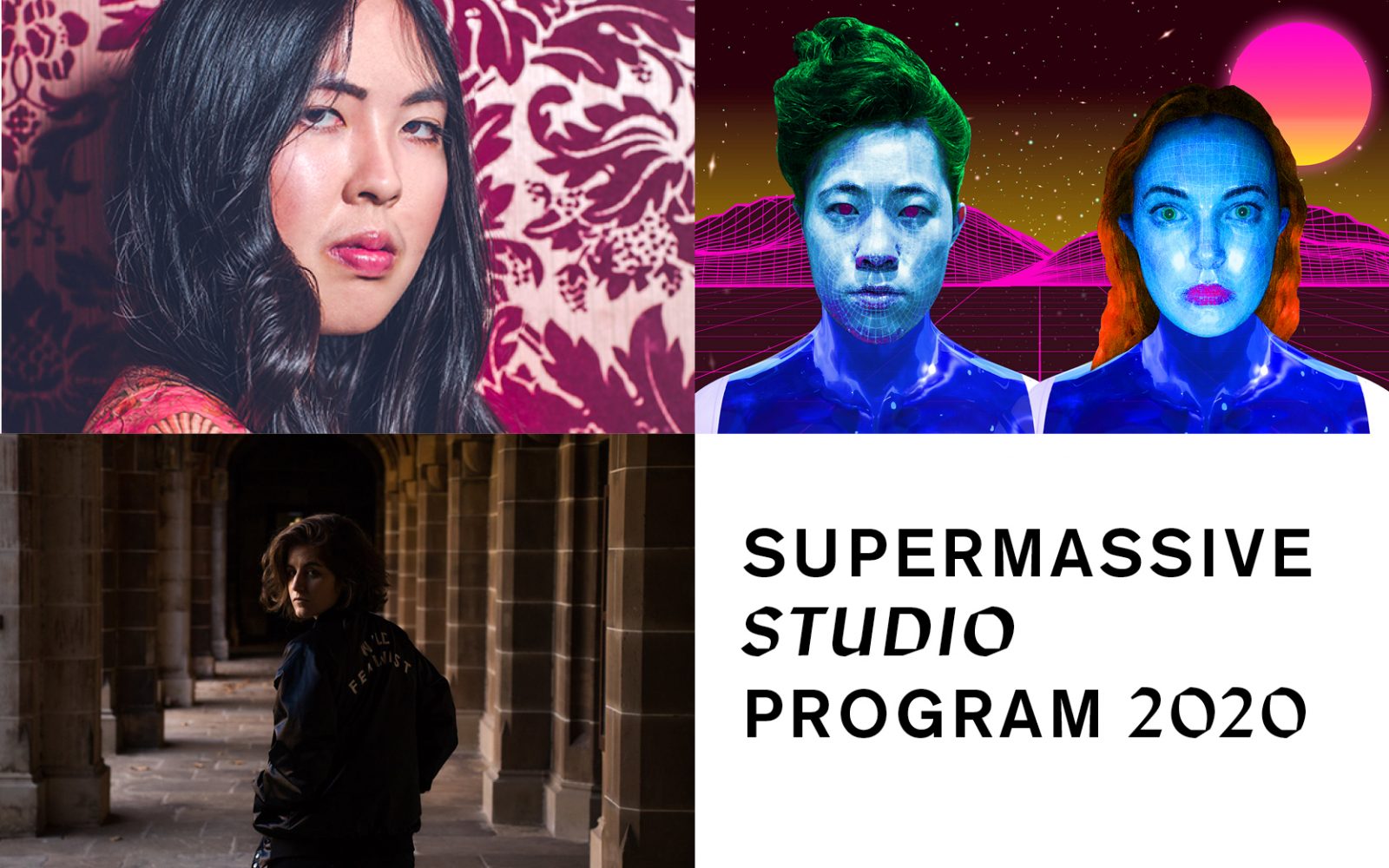 APHIDS SUPERMASSIVE STUDIO ARTISTS 2020
APHIDS are excited to announce that from February–December 2020 four new SUPERMASSIVE artists will be joining us in-residence at our new studio in Collingwood Yards. Derisee Tan, Kasey Gambling, and Roshelle Fong and Keziah Warner work across theatre, performance and experimental site-specific practice; they will be mentored one-on-one with APHIDS co-directors, and share our space throughout the year. Meet them and see some our past SUPERMASSIVE artists here.
The studio residencies and mentorships are part of our ever-evolving SUPERMASSIVE program, in which APHIDS looks to forge and sustain relationships with early career artists, building partnerships and pathways for future opportunities.
The Director @ ITFoK
International Theatre Festival of Kerala held in Thissur, India was a hotbed of political performance and commentary. It is a well loved festival with a broad and diverse audience, who witness programming across three categories, local, national and international as well as talks, and films. We arrived to our hotel to hear a muzak rendition of a funeral song from our show in the lift. This was on repeat our entire stay.
Attending the artist talk of Inua Ellams we quickly learnt that theatre goers in Kerala are invested, engaged and fearless questioners. This was emphasised by the queue to buy tickets which could stretch to several hundred people in line for three hours. Our own theatre space was probably at triple capacity as half the audience squished on the floor under the fans. We were concerned The Director may not resonate in a country which has a much less commercialised death industry but were surprised by the chats after the show, speaking about the commodification of rituals and how grateful everyone was they weren't going to die in Australia.
It was inspiring to hear Australian artist Jacob Boehme speak from an Indigenous perspective on the subject of movement and citizenship on the eve of Invasion Day. As India struggles with politicians introducing horrifying migration and citizenship laws it was clear curator Amitesh Grover programmed work that looked deeply at the questions of migration, ritual and community in a fractured world.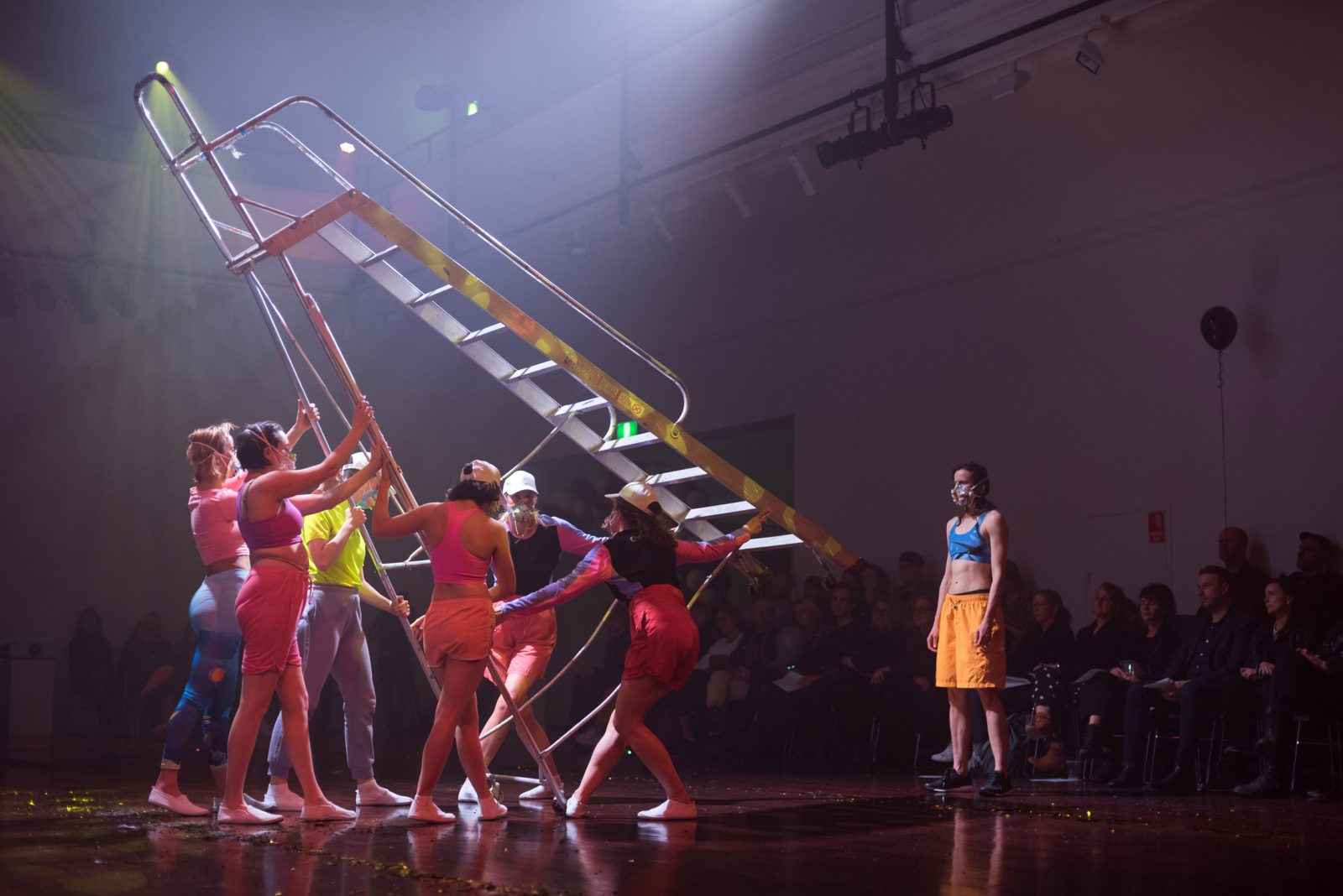 Vitalstatisix AND APHIDS NEED YOU!
EOIS FOR PERFORMERS/COLLABORATORS for Howl OPEN NOW
In March 2020 Howl returns!
An exciting paid opportunity for 4 South Australian artists to join the APHIDS team in presenting live performance work Howl in March 2020. A performance at the intersection of parade, protest and procession, Howl is a glorious celebration of controversy in the art world.
From depictions of sexuality and the human body that have challenged the status quo, to acts of civil disobedience, Howl commemorates 15 artworks that have challenged the acceptable and changed the conversation about legitimacy and art forever. This is a requiem that is unquestionably queer, arguably dangerous and probably obscene.
Created by APHIDS, one of Australia's leading experimental and feminist arts companies, Howl will be performed with South Australian collaborators in the heart of Adelaide's art world in an ambitious collaboration between APHIDS, the Art Gallery of South Australia, RCC and Vitalstatistix for the Adelaide Biennial of Australian Art: Monster Theatres.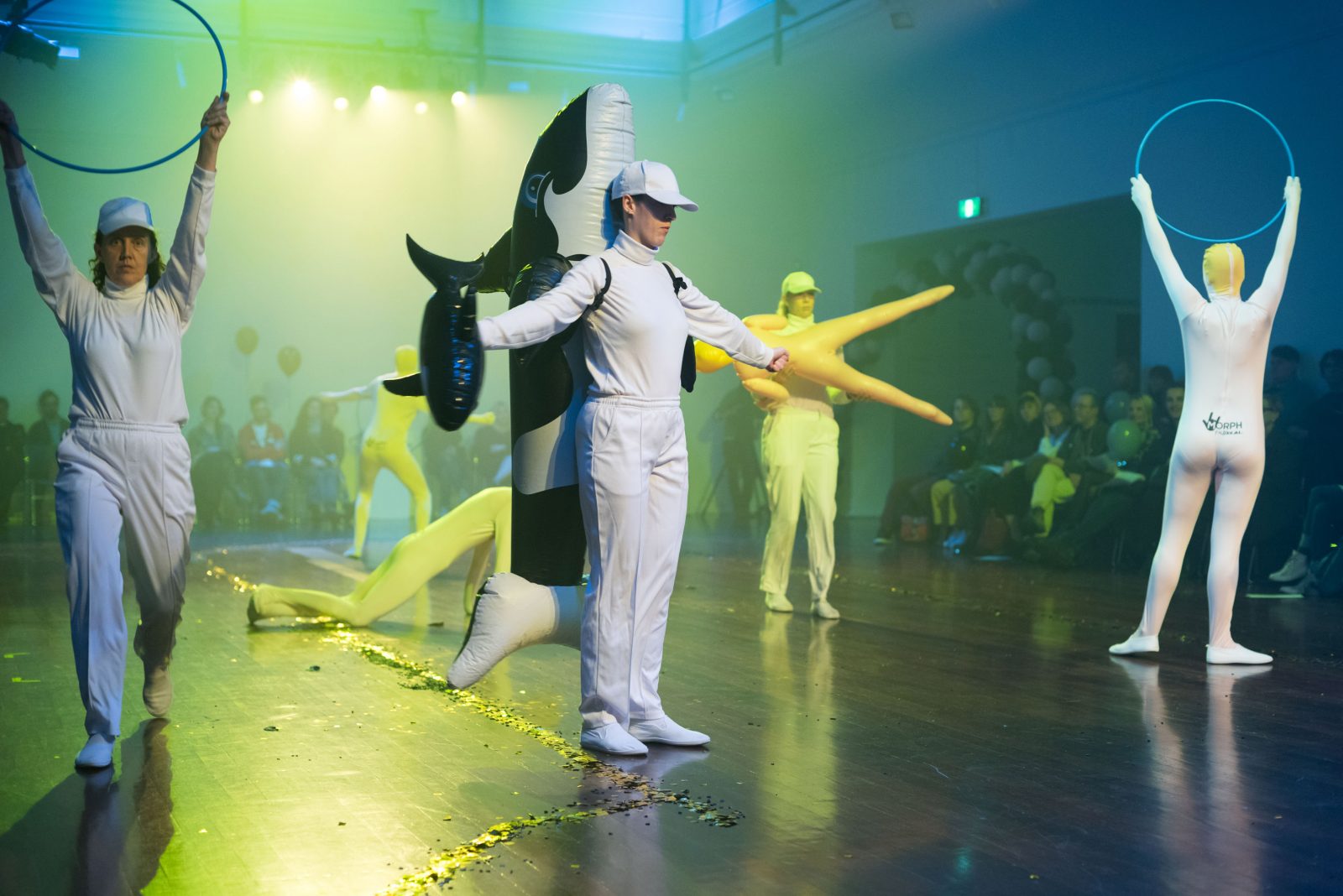 LIBRARY AT THE DOCK
SUPERMASSIVE DROP-IN CENTRE
APHIDS wants to speak with YOU! Are you an emerging artist who wants another pair of eyes on something you've had cooking for a while? Are you an experiemental artist who wants help thinking through a fresh idea or a new form? Do you want to confess your wildest artistic desires or thorniest dilemmas?
SUPERMASSIVE

 drop in centre is the next in APHIDS' conversation series – works that have so far included workshops, installations and podcasts. These projects resist hierarchies and invite guests to come, sit, delve deep, show, telll and chat. The idea is we can wrestle with artistic questions together, rather than having to orient ourselves alone in the dark. 
Supermassive

 Sessions will be a 30 minute conversation with at least one of APHIDS co-artistic directors Lara Thoms, Mish Grigor or Eugenia Lim. Sessions can be booked solo or in small groups. No formal preparation required. Each year, APHIDS supports three emerging artists and arts professionals through its 

SUPERMASSIVE

 program – if you are interested in longer-term relationship in 2020, let us know during your session.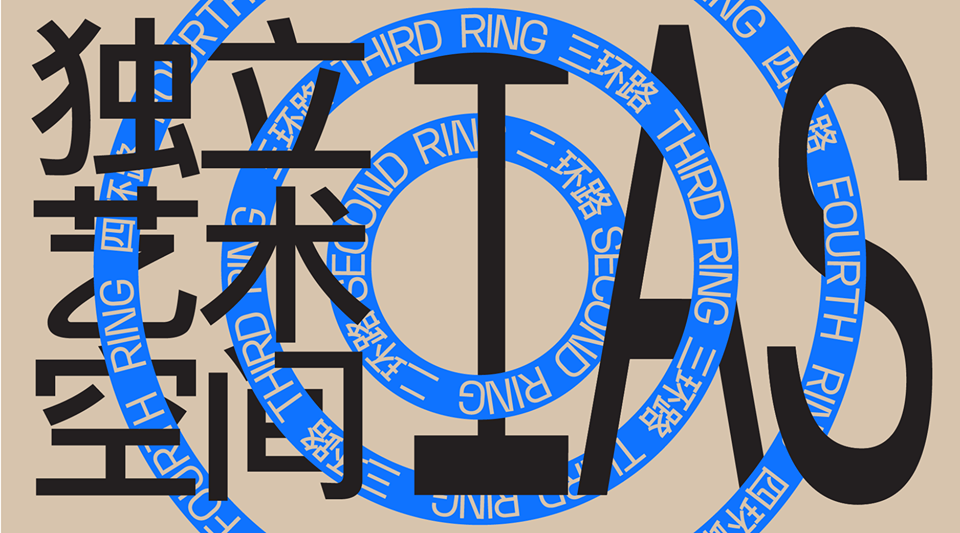 EUGENIA LIM @ IAS: BEIJING
Thanks to the Australia Council for the Arts, Eugenia is repping APHIDS in China this September for Independent Art Spaces Beijing. Independent Art Spaces is organised by i:project space Beijing and brings together experimental and independent artists, curators and spaces from across China (and invited international participants) for knowledge exchange.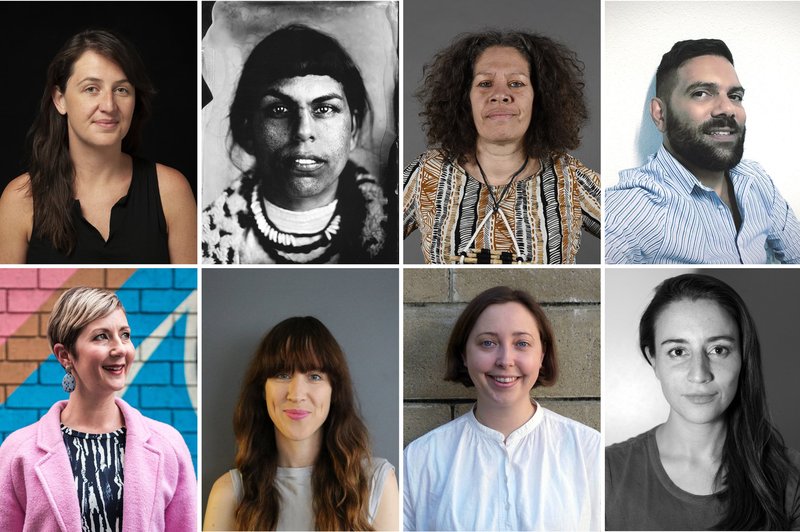 MISH GRIGOR @ NAVA'S ARTS DAY ON THE HILL
Arts Day on the Hill is the National Association for the Visual Arts (NAVA) annual focus on national advocacy development for sustained government engagement with a long-term policy focus. Selected as the Victorian representative, APHIDS' Mish Grigor is one of eight Arts Day on the Hill participants who will gather in Canberra during the Parliament's winter sitting on 31 July 2019 to set the contemporary arts agenda alongside Clare Armitage (NT), Selena de Carvalho (Tas), Nadeena Dixon (NSW), Shaun Edwards (Qld), Emma Fey (SA), Miranda Johnson (WA) and Bec Selleck (ACT).
For more information visit NAVA
DONATE TO URGENT ART FOR URGENT TIMES
For us, the first six months of this year has been about philosophical wrestling. We want to believe that change, big and small, is possible. We want structural change to the institutions that organise the world. We're starting with ourselves.
As artists, we have come together as an experiment. We want to run this company as we run our practices: responsive, political, audacious. In this climate, this is a big ask. It's a long game: we are pushing back against pressure for endless growth, against spectacle, and against the neoliberal demands of constant productivity and output. We are an unapologetic bunch of intersectional feminists, mothers and queers with radical ideas.
At the end of this financial year reach into your wallets for loose change, big or small, to support us in this fight.
Help us enable our ambitious vision of urgent art for urgent times; for deepening SUPERMASSIVE, which provides sustained support to the next generation of artists. Our works critique corporate control of the death industry, question mobility and privilege and pay uber drivers a better wage to make art. Help us build a bridge between discourse and practice and get these seen. Help us to keep asking the big questions.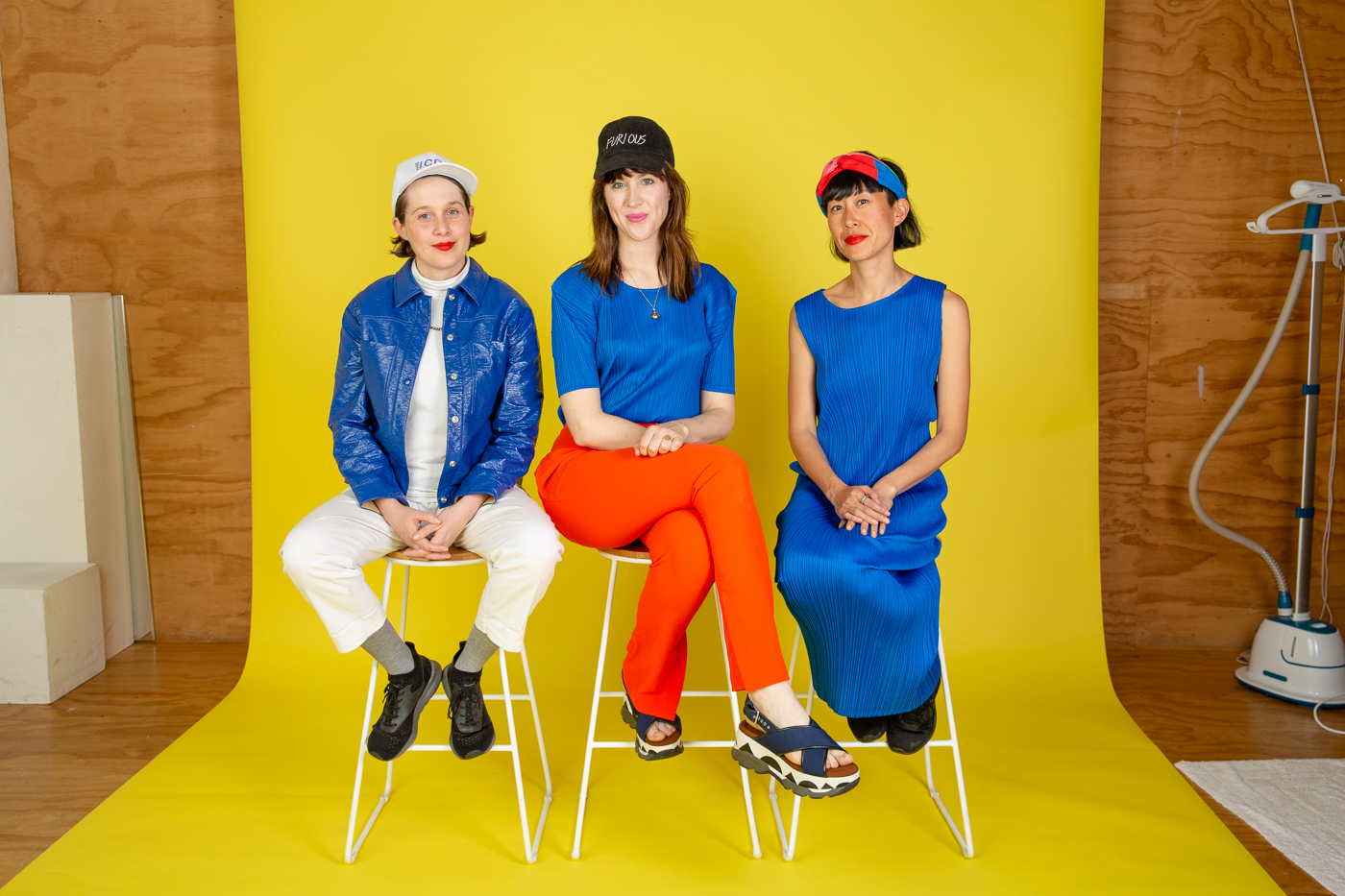 Hopes, vision and fears - NAVA COMMISSION
'This election year and forever more, we want politicians and their constituents – you, us, economists, farmers, kids, scientists, teachers, workers – to understand that art is not something to be contained within a spreadsheet, a set of KPIs, or a 'creative industries' portfolio. As we face the possibility of mass extinction, the rise of populism, toxic masculinity, continued displacement due to climate change, war and racism, it is a vital yet indefinable part of making us humans, whole – not because it has any answers, but rather because it helps us articulate our questions. We want those in power to make real space for the voices and perspectives of artists in culture. A space that honours and respects people who identify as women, queer, First Nations, non-binary, people of colour. To pay attention to kids and elders as the past and future leaders of our society…
At its most basic, working together is a reaction against a singular vision: we refuse to be auteurs, we disperse knowledge, and we rebel against any hierarchy. We will endeavour, in difference and complexity, in conversation and argument, to take this organisation into its third iteration. Our stubborn rejection of conventional frameworks will be our gesture towards world-saving, We hope that this rejection becomes an embodied practice and reaches far beyond this company's governance.'
In February 2019 the National Association for the Visual Arts (NAVA) invited Mish, Lara and Eugenia to respond to their hopes, visions and fears; and their intent on working together at APHIDS as a reaction against a singular vision.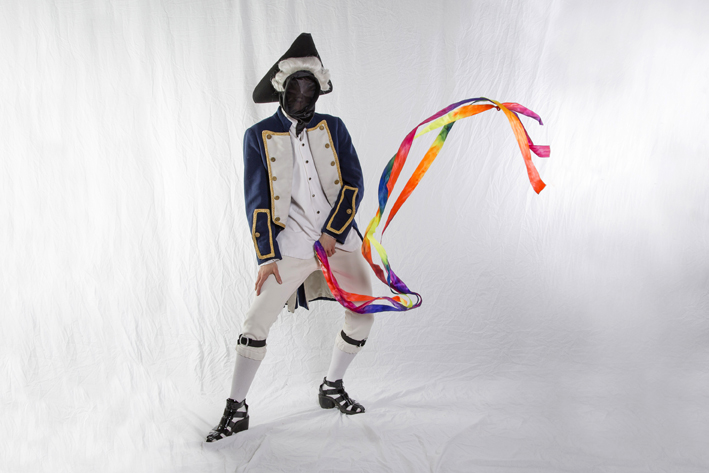 Aphids New World Order Party
APHIDS invites you to celebrate the announcement of new Co-Directors of the organisation Eugenia Lim, Mish Grigor and Lara Thoms, and raise a glass to outgoing Artistic Director Willoh S. Weiland and Artistic Associate Lz Dunn. Starting in 2019 these artists will be taking the company in an new collaborative and deeply feminist direction.
Come party with us at MPavilion on Friday 2 November; hear more about our plans for 2019, drink some bubbles and shed some tears – with cameos from some special guests and sets by JR Brennan and Sullivan.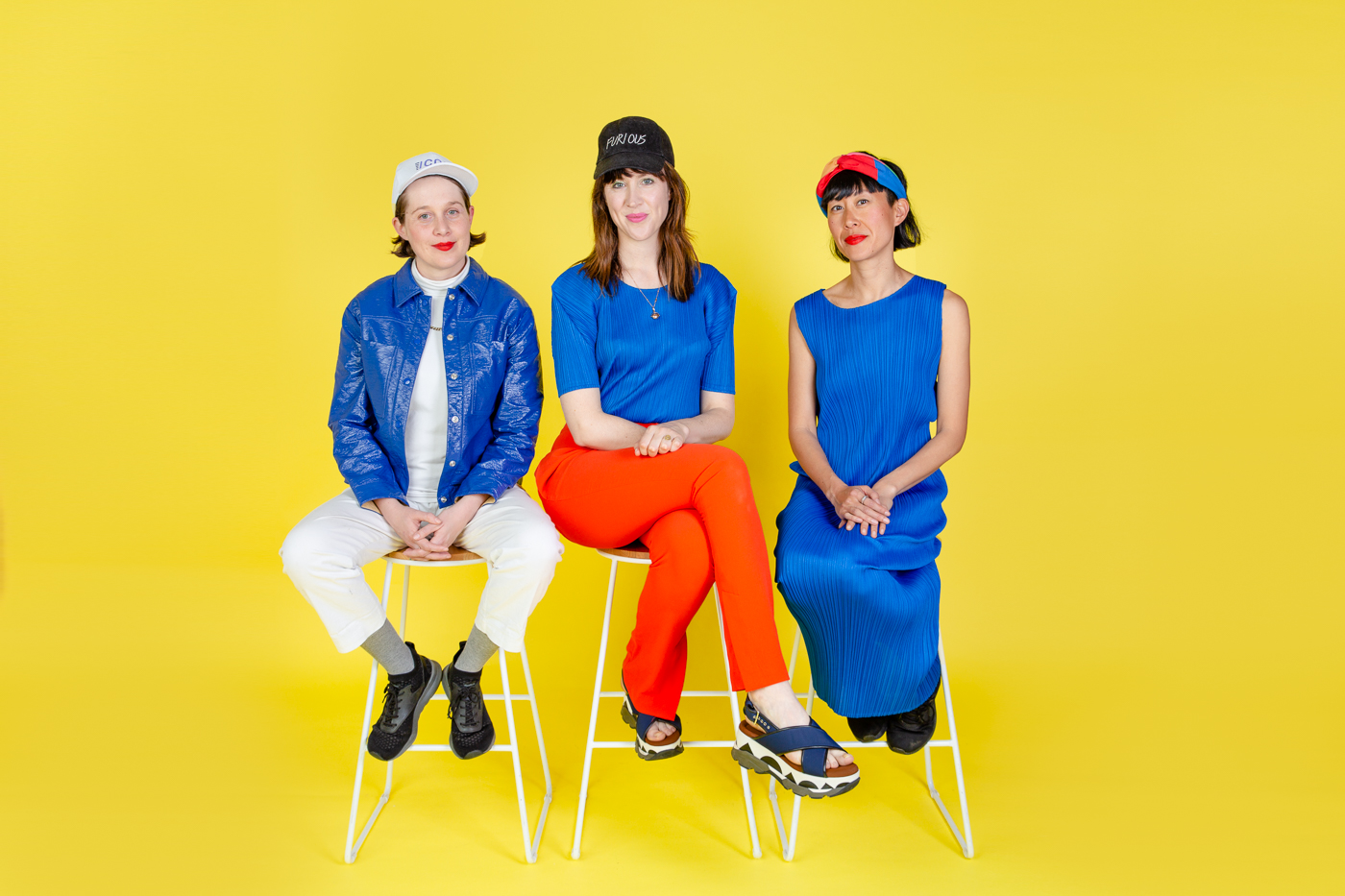 Lara Thoms, Eugenia Lim & Mish Grigor
2019 Co-Directorship announcement
Aphids is thrilled to announce a new direction for the company, with the appointment of three leading Melbourne-based artists – Eugenia Lim, Mish Grigor and Lara Thoms – who will form a new co-directorship for Aphids. Driven by a feminist methodology in which collaboration, deep listening and radical leadership is key, the trio of artists will lead the company into its third iteration from 2019.
This announcement sees the artists' individual practices evolve with the support, history and vision of a 25-year-old company. As a co-directorship, Aphids will privilege diversity as a guiding principle of its remit, bringing over 10 years of collective experience across experimental theatre, live art, performance and visual art. In 2019 and beyond, Aphids will make and present art that is provocative, loud, ambitious, urgent and formally promiscuous.
"We want to be active in shaping an artistic and cultural landscape that gives space to multiple voices – a sense of welcome, dialogue, criticality, experimentation and support for diverse artists and audiences," said Lim, Grigor and Thoms.
Artistic director Willoh S. Weiland has stepped down after seven significant years at Aphids. Weiland is moving on to a creative associate position at Mona Foma in Hobart, Tasmania and will continue her work as an honorary fellow at the Microsoft Research Centre for Social User Interface at the University of Melbourne. She and Artistic Associate Lz Dunn, who is currently touring her incredible work Flyway to Toulouse after presentations in Melbourne, Lithuania, Bulgaria, The Netherlands and Germany, will remain on the Aphids committee.
Aphids is an artist-led organisation formed in 1994 by artistic director and composer David Young, writer and musician Cynthia Troup, visual artist Sarah Pirrie and fashion designer Kath Banger. In 2010, Weiland joined the company as artistic director, putting her own unique mark on the company ethos with an experimental and innovative program fusing music, performance and new technologies.
Stay tuned for an Aphids celebration in November 2018, to welcome our new directors and raise a toast to the significant contributions of Lz Dunn and Willoh S.Weiland.