Supporters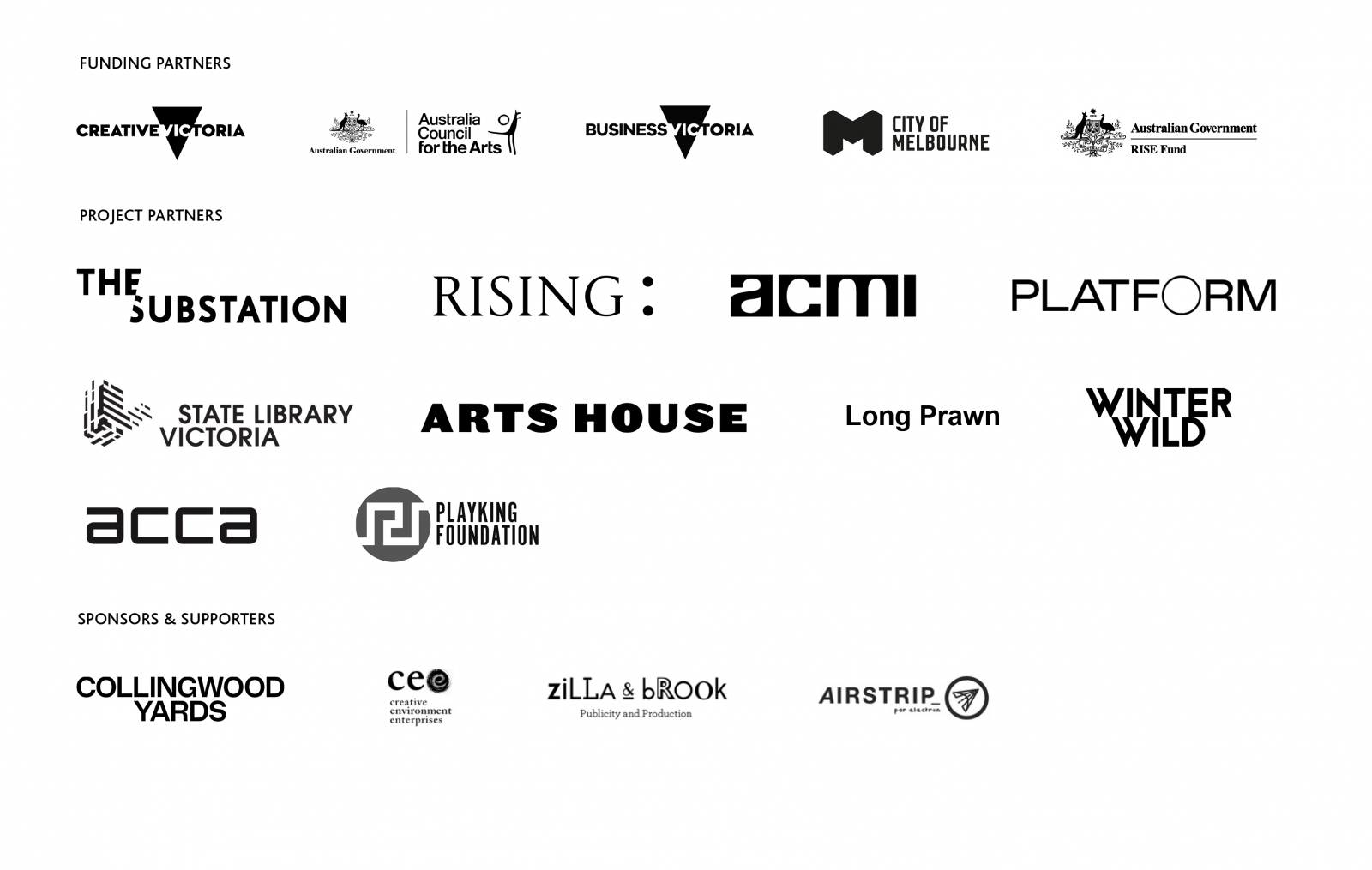 APHIDS gratefully acknowledges our many collaborators, supporters, partners and friends who have contributed to our ongoing program.
THANK YOU TO ALL OUR FUNDERS, PARTNERS, SUPPORTERS & DONORS.
APHIDS is supported by; the Australian Government through the Australia Council for the Arts, its arts funding & advisory body; the Victorian Government through Creative Victoria and Business Victoria; Restart Investment to Sustain & Expand (RISE) Fund – an Australian Government initiative; the City of Melbourne through its Arts & Culture Investment Program; Yarra City Arts; and through our presenting and commissioning partners and venues.
APHIDS thanks our donors, whose generosity and support makes our art possible:
Alexia White, Amelia Wallin, Angharad Wynne-Jones, Antony Hamilton, Arianne Rose, Benjamin Forster, Bikram Singh, Brad Spolding, Bruce Gladwin, Chanie Stock, Dan Koop, Diana Goldenfein, Donna Luker, Emily Sexton, Emma Telfer, Eugene Schlusser, Fay Bock, Genevieve Lacey, Georgie Meagher, Grant Alexander, Greer Evans, Hannah Fox, Helen Lieberman, Henry Wolff, Irene Finkelde, Jamie Lewis, Jason Maling, Jess Oliveri, Jo Porter, Joel Stern, Julius Rath, Kate Sulan, Kerewin Huck, Kiloran Hiscock, Kim Brockett, Lynda Roberts, Lucy Bleach, Lz Dunn, Madeline Hawcroft, Maggie Meagher, Marc Goldenfein, Mariam Arcilla, Max Delany, Meredith Martin, Michaela Coventry, Michelle Reichinger, Monika Pekevska, Nicole Beyer, Peggy Cole, Rod Cuthbert, Rory Johnson, Ryan Johnston, Sarah Rowbottam, Simon Abrahams, Susie Quillinan, Talbot Fulthorpe, Thea Baumann, Tommy Thoms, Tim Webster, Tom Supple, Ulanda Blair, Vivien Allimonos, Romy Ash, Filanthy and Jack Nalpantidis, Simon Abrahams, Danny Bos, Emma Webb, James Sormann, Sasha Di Sipio, Priya Pavri and Lucy Pitt. 
RELATIONSHIPS
Creative Victoria 
RISE 
Business Victoria
City of Melbourne
Australia Council
ACMI
Arts House
Collingwood Yards
RISING Festival
Australian Centre for Contemporary Art
Long Prawn
Platform Arts
Playking Foundation
State Library Victoria
The Substation 
Regional Arts Victoria
WinterWild Festival