About
People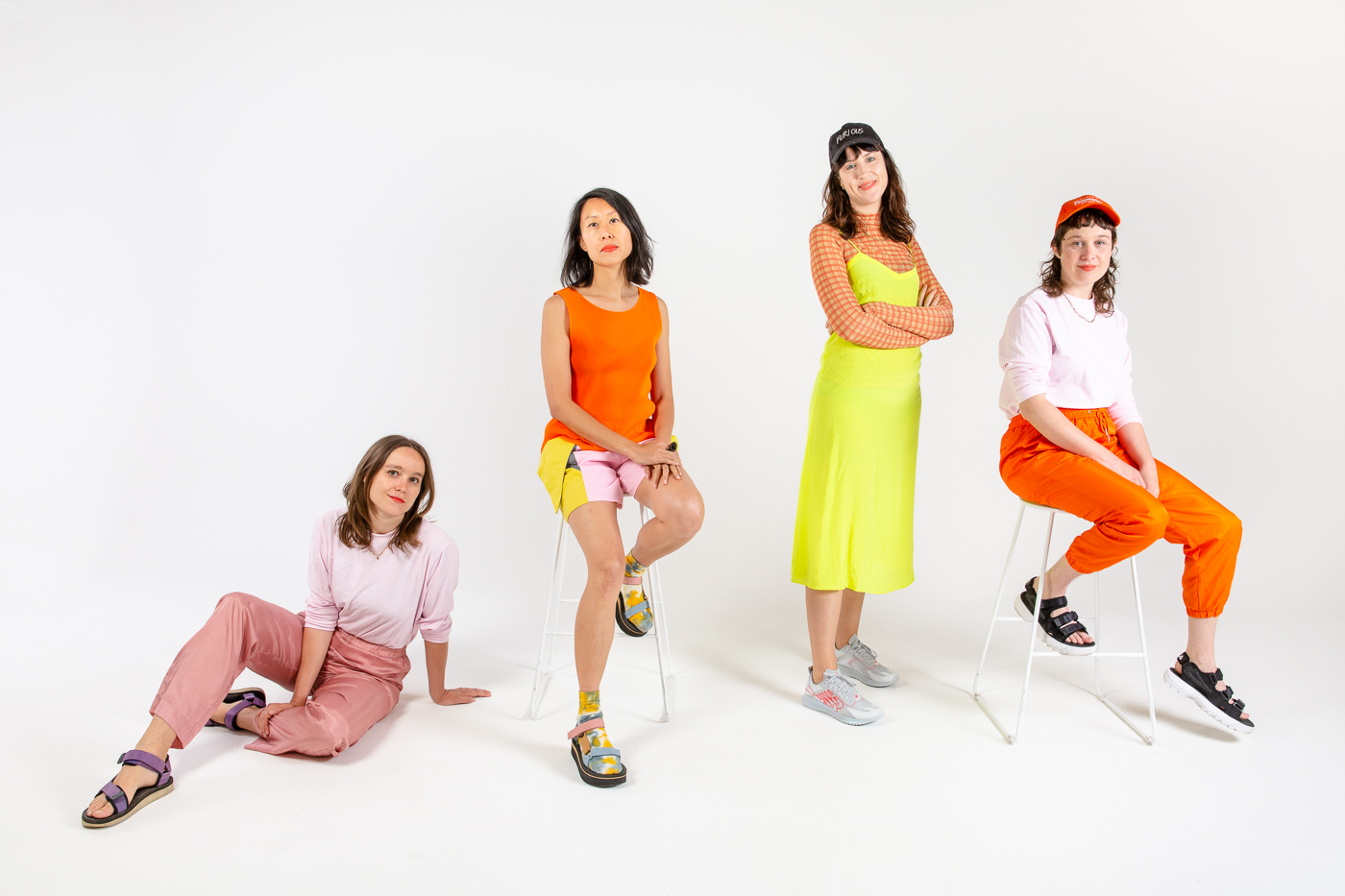 APHIDS Team
Co-Directors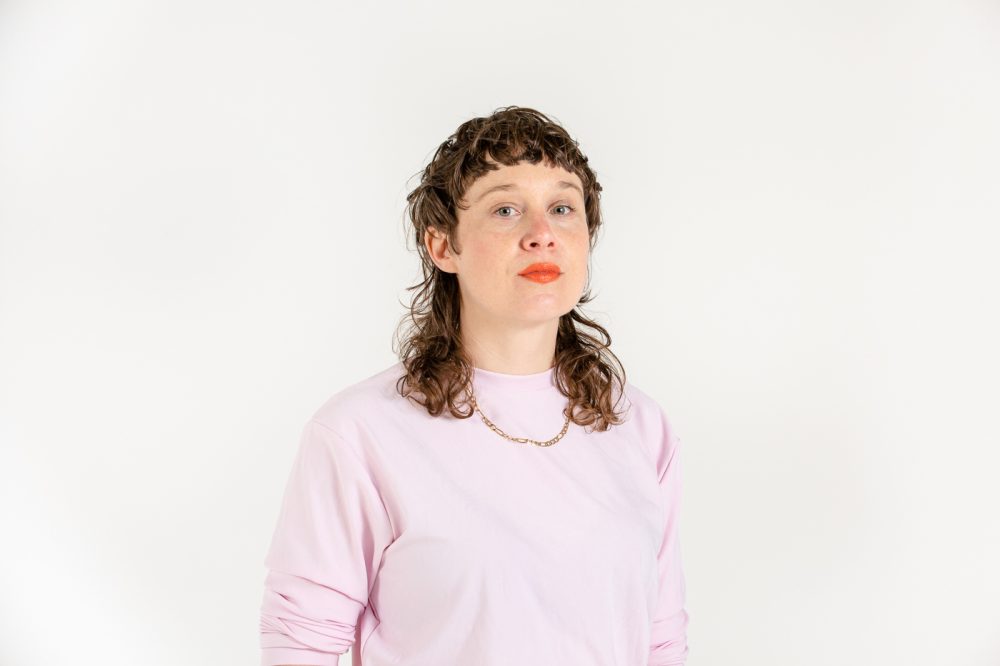 Lara Thoms
Lara Thoms is a queer artist interested in socially engaged, site-specific and participatory possibilities in contemporary art and performance. Much of Lara's work is collaborative with people beyond the arts including past works with an ex funeral director, Indonesian Metallica fans, and over 300 Western Australian women. Projects include The Director which toured to the Sydney Opera House, SICK! (UK) and ANTI festival (Finland); Ultimate Vision Monuments to Us MCA C3West, Before The Siren for Perth International Arts Festival and A Singular Phenomenon at The Malthouse. Her work with child activists and asylum seekers on Nauru for We all Know What's Happening with Samara Hersch was awarded the prestigious Patronage Prize and the Audience Prize at Theatrespektakle, Switzerland. Lara is also a member of arts collective Field Theory who co-won the 2020 Melbourne Sculpture Prize.
lara@aphids.net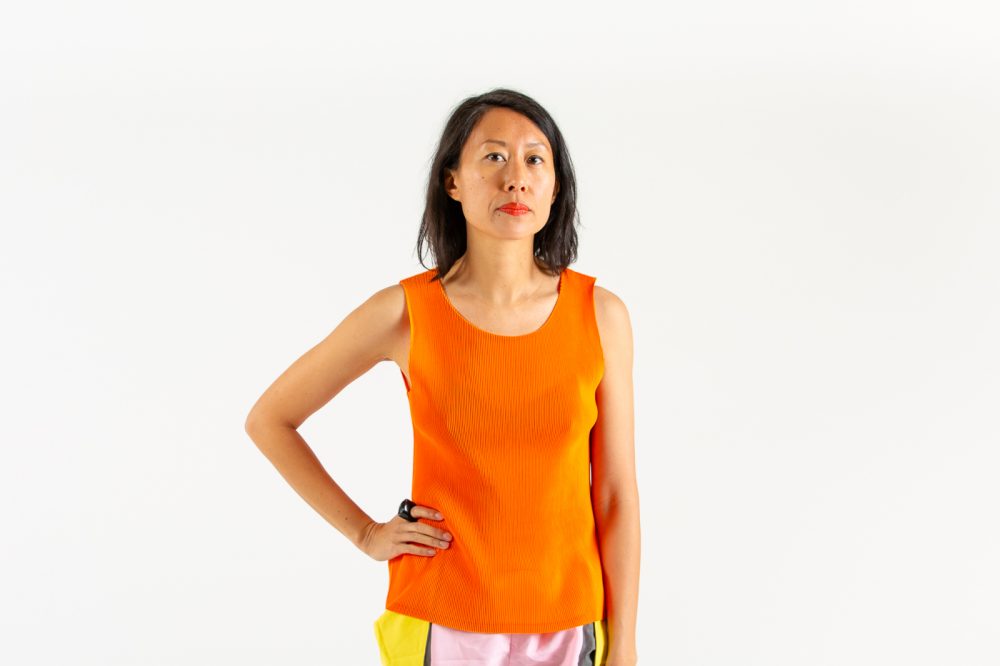 Eugenia Lim
Eugenia Lim is an Australian artist of Chinese–Singaporean descent who works across video, performance and installation to explore how national identities cut, divide and bond our globalised world. Lim has exhibited, screened or performed at the Tate Modern, LOOP Festival (Barcelona), FIVA (Buenos Aires), Recontemporary (Turin), Kassel Dokfest (Kassel), Samstag Museum, Newcastle Art Gallery, Dark MOFO, ACCA, Melbourne Festival, Next Wave, ACMI, FACT (Liverpool) and EXiS (Seoul). She has been artist-in-residence with Gertrude Contemporary, the Experimental Television Centre (NY), Bundanon Trust and 4A Beijing Studio. Eugenia Lim: the Ambassador (presented by 4A Centre for Contemporary Asian Art and Museums and Galleries of NSW) has traveled to eight Australian museums between 2019–2021. Lim co-founded CHANNELS Festival and co-wrote/hosted Video Becomes Us (ABC iView). Lim is a current PhD candidate at the Victorian College of the Arts and is represented by STATION.
eugenia@aphids.net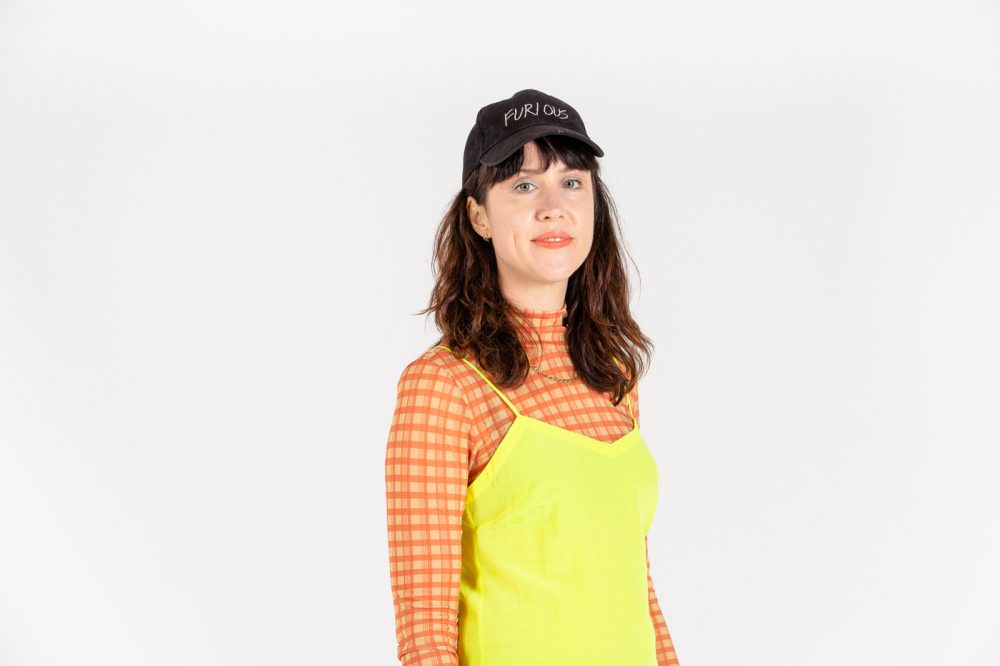 Mish Grigor
The work of Mish Grigor is situated in the performing arts as a maker, writer and performer. Using autobiographical tools, humour, and fiction, she is intent on problematising the frames of power from which art and identity emerge. In 2019, with APHIDS, Mish toured The Talk to Perth Institute of Contemporary Arts and premiered Exit Strategies at ArtsHouse. Based in Melbourne since 2017, Grigor is also co-director of POST, formed in 2003, a company who work between popular entertainment and experimental art practices. Their recent work Ich Nibber Dibber was a Sydney Festival/Campbelltown Arts Centre commission which toured to Sydney Opera House and Malthouse Theatre. Oedipus Schmoedipus, a commission from Belvoir St Theatre and Sydney Festival toured across Australia, and in collaboration with Hong Kong Rep Theatre and West Kowloon Cultural Precinct POST directed an all-Cantonese adaptation of the work at Black Box Festival, Hong Kong. Grigor is a current PhD candidate at the Monash University.
mish@aphids.net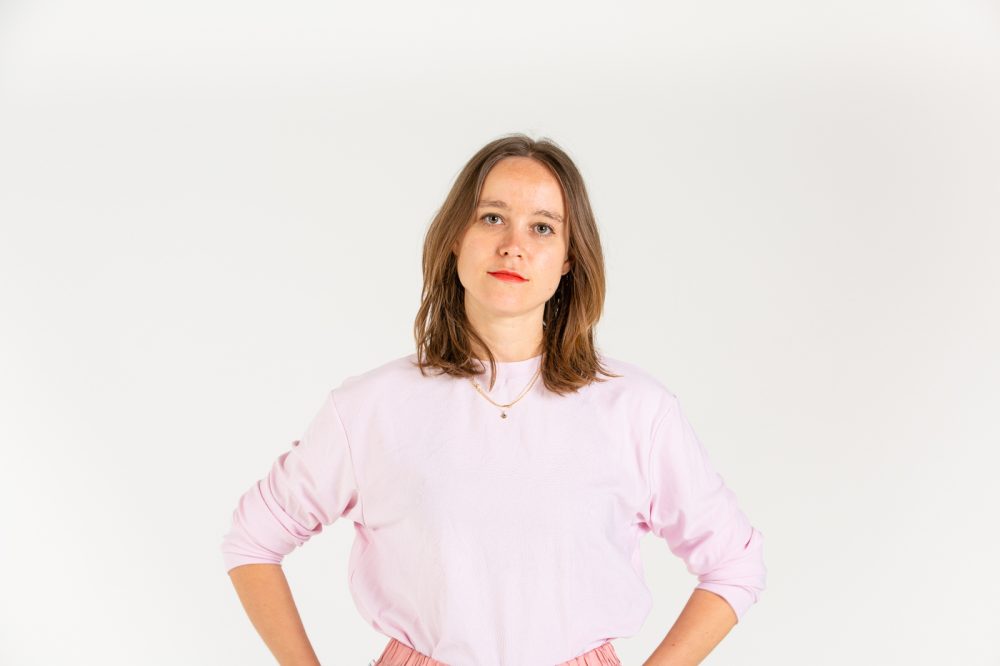 Operations Manager, Graphic Designer
Rebecca McCauley
Rebecca McCauley is an artist, arts worker and designer currently based in Naarm/Melbourne. Trained in graphic design and museum studies she brings her formal training to her work at APHIDS. Through APHIDS and freelancing her work has been associated with projects held at; 2020 Adelaide Biennial of Australian Art: Monster Theatres, Art Gallery of South Australia (SA), Mona Foma (Tas), Perth Institute of Contemporary Arts (WA), Australian Performing Arts Collection (Vic), Sydney Festival (NSW), Festival of Live Art (Vic) and Arts House (Vic). Recently, working in collaboration with Aaron Claringbold, she is a Next Wave 2020 commissioned artist, and a finalist in 2019's Darebin Art Prize, Bundoora Homestead, & Incinerators Art for Social Change Award, Incinerator Art Gallery. In 2019 she was Thinker-In-Residence at the Basic Spell feminist library, and in 2020 is an Artist-In-Residence at RMIT's Photo Futures Lab. Originally a SUPERMASSIVE intern she has been employed as a designer for APHIDS since 2013, and stepped into the Operations role in 2017.
rebecca@aphids.net
International Producer
Alison Halit
Finance Officer
Au Nguyen, FAME Group
Publicist 
Zilla and Brook
fiona@zillaandbrook.com.au
COMMITTEE OF MANAGEMENT
Chair
Dr Meredith Martin
Advocacy, strategy and senior arts management
Dr Meredith Martin has over 20 years' experience working at the intersection of higher education, the creative industries and the public sector as a researcher, senior manager and strategic advisor. Throughout her career she has maintained a strong interest in the social impacts of cultural and public engagement, with a focus on accessibility, social inclusion and gender parity. She is the Director of the Pathways to Politics Program for Women, which she established at the University of Melbourne with Carol Schwartz AO in 2015, to redress the underrepresentation of women in Australian parliaments. Meredith completed a PhD in museum studies in 2009, has published and presented widely on culture-led regeneration, and collaborated on numerous projects with Nikos Papastergiadis and Scott McQuire from the Research Unit in Public Cultures. She is a member of the Board of the Public Galleries Association of Victoria and co-chairs the PGAV's Research and Advocacy Committee. She is Fellow of the Centre of Visual Art and a member of the Grimwade Centre for Cultural Materials Conservation Advisory Committee. She was previously the Associate Director Cultural and Public Engagement at the University of Melbourne, where she led whole-of-University partnerships with major cultural organisations and peak bodies.
Treasurer
Tim Webster
Commercial and financial management, arts background
Tim Webster is the commercial manager for Bootstrapper Ventures, the family office of Andrew Duncan, which invests in early stage technology companies working in the energy and utilities sector. Tim trained as an artist and spent a decade working in the creative industries and has held board positions with Bus Projects and Black Hole Theatre. Since 2013, Tim has worked in marketing and product roles with technology companies including Uber, Aconex and Unlockd before transitioning to finance. He has an MBA from Melbourne Business School.
Secretary
Donna Luker
Governance and strategy
Donna is the Director, Planning, Risk and Governance Branch for the Department of Education and Training. She leads the Department's corporate strategy, planning, governance and risk management functions. The Branch supports the Department maintain focus on delivery and performance by aligning strategy, planning, risk and governance to enable evidence-informed decisions that drive current and future system-wide reforms and improve outcomes for all Victorians.
Donna has extensive and diverse career experience across private and public sectors, with executive level roles largely in strategy, high-risk, high-value project delivery, major procurement and whole of government reforms including the departments of Premier and Cabinet, and Justice and Regulation.
Members
Georgie Meagher
Senior level arts management
Georgie Meagher values-driven leader with a background in the contemporary visual and performing arts. She was Director of interdisciplinary arts organisation and biennial festival Next Wave in Melbourne from 2014-2018, and previously led public engagement at the Museum of Contemporary Art Sydney. She was the recipient of a Cultural Leadership grant from Australia Council for the Arts in 2012, received a Dunlop Fellowship for the Asialink Leaders Program in 2017. Georgie has contributed to a range of advisory boards and committees across the arts and higher education and is currently a board member at Description Victoria, who create accessible and inclusive arts experiences for people who are Blind or have low vision. She is currently Project Lead, New Student Precinct at the University of Melbourne.
Marc Goldenfein
Marketing and publicity
Marc Goldenfein is a marketing leader with an extensive background in technology, media and the arts. He currently leads marketing for Australia's largest independent innovation consultancy, IE and has extensive experience in event technology and marketing strategy. Over the past 10 years he has held leadership roles at various companies including TryBooking and Fairfax Digital.
Alexia White
Legal and governance
Alexia is an associate lawyer at an entrepreneurial and multidisciplinary law firm. Working with private clients as well as medium to large businesses, Alexia has a broad range of practice areas including property and commercial leasing, business sales and acquisitions, franchising, general commercial advice and estate planning.
Alexia has a Bachelor of Arts (Honours) from the University of Melbourne and a Master of Laws (Juris Doctor) from Monash University. Alexia was admitted as a solicitor of the Supreme Court of Victoria in 2015.
Tom Supple
Senior level arts management and policy
An artist and curator working in the field of Contemporary Music, Installation and Sound. Thomas is a graduate of the University of Melbourne Law School, with undergraduate degrees in both Arts and Laws. Former partner of creative duo Supple Fox, his current and ongoing curatorial engagement with Dark Mofo as Senior Music Curator, a position he has held since the festival's inception in 2013. As an artist, Thomas regularly collaborates with fellow Melbourne based artists Hannah Fox and Byron Scullin. The group's work, Siren Song, a large-scale, outdoor sonic artwork that fills the skies of a city continues to receive regular presentations, with the next major commission scheduled for May 2021 in Dusseldorf, Germany.
Previous Committee Members
Vivien Allimonos, David Young, Shourov Bhattacharya, Cynthia Troup, Rosemary Joy, Greer Evans, Willoh S. Weiland, Eugene Schlusser, Hugh Adamson, Louise Curham, Margaret Cameron, Peter Humble, Natasha Anderson, Colin Sneesby, Geoffrey Morris, Bec Reid, Fiona Brook, Tristan Meecham.