Supermassive
Mentorships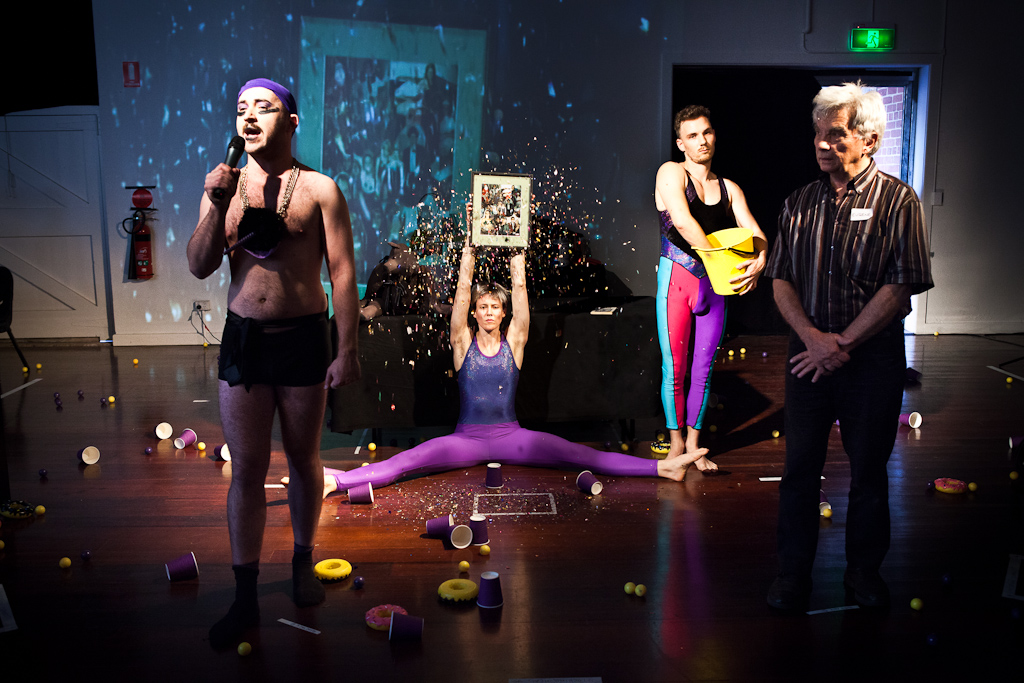 Mentorships
As part of the Supermassive program, Aphids offers mentorships, secondments and internships to early career artists and producers.
2017
Internship – Meg Wilson
Meg Wilson was mentored by Aphids Artistic Director Willoh S.Weiland. This included 5 mentoring sessions focused on transforming her design practice to focus on the integration of performance. She was supported to travel to Melbourne for the Crawl Me Blood preview presentation in the Royal Melbourne Botanical Gardens – where she assisted in developing design, lighting, set and video elements.
2016
Internship – Danielle Reynolds
Danielle Reynolds worked with Aphids on parade project Howl as part of the Festival of Live Art, 2016.
2015
Mentorship – Hannah Bronte
Indigenous Artist Mentorship recipient Hannah Bronte was mentored by Kate Geck and supported with residency space through Footscray Community Arts Centre for her work in the 2015 Next Wave Festival.
Internship – Jasmine Proust
For her internship with Aphids Jasmine undertook research into connections between Australia and the Caribbean for Crawl Me Blood. Research was undertaken via the Internet at Headquarters, as well as collections at the Melbourne City Library, The State Library of Victoria and at the Docklands Library during a weeklong residency.
2014
Internship – Rebecca McCauley
In 2014, Rebecca McCauley collaborated with Lz Dunn to produce a 50 page publication based on the creative processes and research behind her Flyway project. The book was launched at the Wheeler Centre in April and has been distributed to peers and presenters from Australia and abroad at local and international meetings.
Mentorship – Dylan Sheridan
Tasmanian artist Dylan Sheridan was mentored in new partnership with Next Wave. Continuing his association with Aphids, Dylan was mentored by Martyn Coutts and Willoh S. Weiland, towards the presentation his critically acclaimed work, Terminal, as part of the Next Wave Festival.
Secondment – Robyn McPherson
Aphids offered a Stage-Design Secondment to Robyn McPherson working on Aphids' major performance presentation for the year, Game Show, which premiered at the Festival of Live Art (FOLA) in March. Robyn worked closely alongside the show's Assistant Designer, Yvette Turnball, throughout the performance season.
2013
Secondment – Alistair Watts
Alistair worked as a performer and props designer with Aphids during the CultureLab development of Game Show at Arts House.
Aphids Indigenous Mentoring Scheme – Jason Davidson
Mentee is Jason Davidson a new media artist based in Bakewell, NT. He was be mentored by Cairns-based designer Leigh Harris.
2012
Intern – Mark Pritchard 
Emerging artist and producer Mark Pritchard worked to assist Willoh S.Weiland to help deliver a specific project in the Aphids program as well as assist in the day-to-day operations of the company. The yearlong internship focused on the production of the major Forever Now project and enabled Mark to develop professional producing skills.
Mentorship – Zoe Meagher
Aphids supported Zoe Meagher to present a new work Goodbye, CSIRAC at the Melbourne Museum in May at the 2012 Next Wave Festival. Artistic Director Willoh S.Weiland worked closely with Zoe on her performative audio tour, providing textual and dramaturgical support.
"As the first major project I had attempted as a solo artist, Goodbye, CSIRAC was ambitious and intimidating. I didn't know where to start – but Willoh did. As I devised content, Willoh shaped it into a cohesive whole, and so Goodbye, CSIRAC grew from a personal challenge into a shared joy." – Zoe
Secondment – Dylan Sheridan 
In December 2012, Dylan Sheridan was seconded to the company to work on the development of a new collaborative project, Trouble In Paradise. Dylan is a Tasmanian composer who works across opera/staged music, chamber music and electronic music, both acoustically and in complex programming environments like Pure Data.
2011
Aphids Indigenous Mentoring Scheme – Don Bemrose
Don Bemrose is Australia's foremost male Aboriginal classical artist. Don grew up in a small hinterland town on Queensland's Sunshine Coast and is a proud Gungarri man whose family hail from the Cherbourg Aboriginal Community. At the age of 13, Don, with inspiration from his Nana (respected Elder Aunty Ruth Hegarty) discovered the story of Aboriginal Tenor, Harold Blair. This began his passion for the classical voice and lit his desire to perform around the world. Don received a cash contribution towards artistic expenses, and tailored mentoring by Aphids' Artistic Associate Margie Mackay.
Secondment – Rachel Feery
Aphids was joined by Rachel Feery for Wilderness Lab, as part of the Atelier Edens Project. This secondment for an emerging artist gave Rachel the opportunity to collaborate with local and international artists at the luscious Point Nepean National Park.