Supermassive
Artists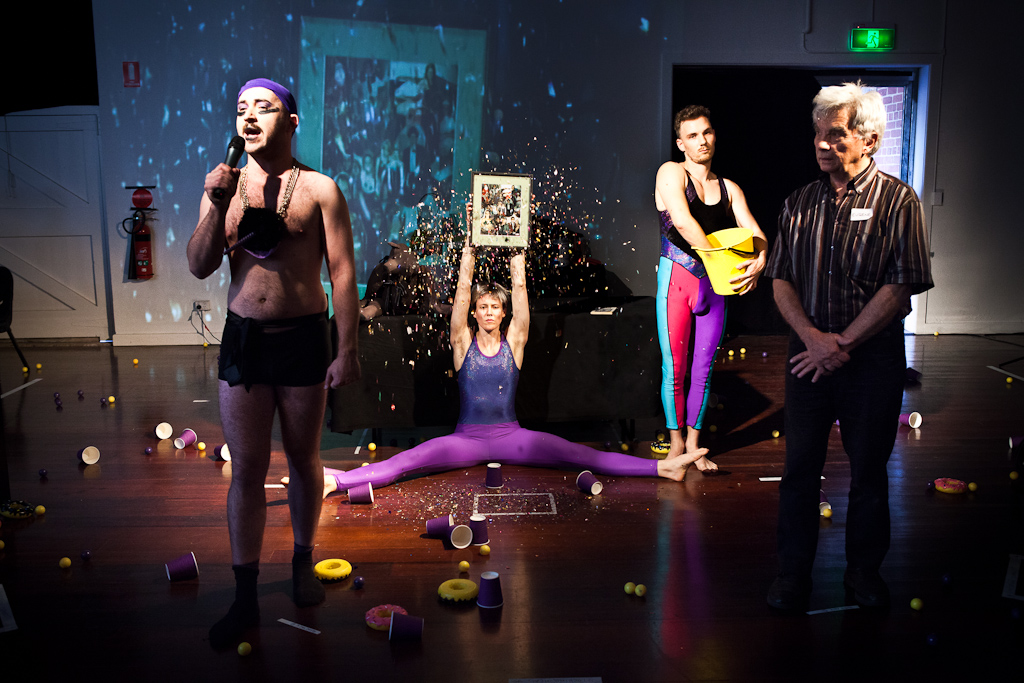 Artists
As part of the Supermassive program, APHIDS offers mentorships, secondments and internships to early career artists and producers.
2023
Mentorship – Sylva Venus Storm
Sylva Storm is an interdisciplinary artist practicing on the unceded lands of the Wurundjeri Woi-Wurrung people of the Kulin Nation. Their practice is engaged in the intersectional membrane between corporeality and relationality. They are interested in where the body meets the artwork, resulting in a charged site for mark making and dialogue. Sylva did a production internship on OH DEER! as part of RISING and will be touring the work with the company to Transform Festival in Leeds in October.
2022
Mentorship – Grace Ellen Macpherson
Grace is a dramaturg and researcher living on the stolen lands of the Wurundjeri people. They are interested in process before outcome in art-making practices. They are currently engrossed by the intersection between art and economics.
2021
Mentorship – Sarah-Jayde Tracey
Sarah-Jayde is a theatre maker/performer living on Wurundjeri land with an intense interest in works centring class politics, feminist analysis, and queer performance.
Mentorship – Harriet Gillies & Marcus Ian McKenzie
Harriet and Marcus are currently collaborating on a large scale, multi-year performance project, 8,8,8. Together and separately they make performances incorporating the body, text, sound design, post-internet phantasmagoria, and parafictional world-building.
Mentorship – Priya Pavri
An independent curator currently based on the unceded land of the Kulin Nations, Priya has a history of growing community projects and organisations through unique and creative endeavours, and is committed to seeking alternative models of working that challenge existing leadership and power structures.

2020
In 2020 our mentees joined APHIDS In-Residence at our studio at Collingwood Yards in a year long mentorship to develop their practice.
Mentorship – Desiree Tan
Desiree's performance work ranges from sociopolitical plays to experimental art. Her practice is situated in cross-cultural theatre traditions, dark comedy and reimagining collaboration through a disability access lens. She also hopes to explore immersive theatre, documentary, sound dramaturgy, photography and the process of choreography more this year. Desiree trains in a Suzuki-based ensemble, The Thursday Group and is helping produce Future Echoes, a festival for young people at the Arts Centre. She has also recently started a university student theatre company for people with disabilities with a focus on exploring the intersections with sexuality, race, gender and class.
Mentorship – Kasey Gambling
Kasey Gambling is a theatre maker and performer interested in creating feminist site-specific works that explore the link between place and oppressed and marginalised voices. She creates intimate works for solo or small audiences such as The Maze: a site-specific walk, allowing a single audience member to witness firsthand the fear and paranoia of one woman walking alone at night. The Maze won Melbourne Fringe NSW Tour Ready Award & Summerhall Awards as well as the Adelaide Fringe John Chataway Innovation Award. Kasey is a co-founder of Melbourne collective, The Honeytrap.
Mentorship – Roshelle Fong & Keziah Warner
Roshelle Fong is a Chinese-Australian multidisciplinary artist who creates playful participatory experiences around intercultural connection. After winning the Melbourne Fringe 2018 Award for Innovation in Culturally Diverse Practice for her immersive theatre show nomnomnom, she has toured it in Australia, Iceland and China with support from Australia Council for the Arts, City of Melbourne and the Ian Potter Foundation. Keziah Warner is a playwright working in science and speculative fiction. She is an alumna of Red Stitch's INK Program, Playwriting Australia's Post-Production Program and Soho Theatre's Writer's Lab, UK. She was long-listed for Soho Theatre's Young Writer's Award and short-listed for the Patrick White Playwrights' Award. Recent credits include Control (Red Stitch, 2019), LuNa (VCA, 2019) Help Yourself (MTC's Cybec Electric, The Old Fitz, King's Cross Theatre, 2019) and Her Father's Daughter (Hotel Now, 2018).
Roshelle and Keziah are co-commissioned Next Wave 2020 Festival artists, and are both writers-in-residence at Theatre Works for their 'She Writes' 2020 program. They are both alumni of Melbourne Theatre Company's Women in Theatre Program and Malthouse Theatre's Besen Family Artist's Program.
2019
Mentorship – Roslyn Helper
Roslyn Helper is an artist and curator interested in the effects of new technologies on society, culture and politics. Roslyn is an advocate for experimental technology-based art and sound. Her thinking and practice is inextricably linked to the contemporary environment: the networked society, unbounded freedom of information, free market economies, crowd-sourced cultural capital, and the increasingly blurred online/ offline divide. Roslyn is currently undertaking a mentorship with Eugenia Lim.

Mentorship – Blame the Shadows
Blame the Shadows' practice is founded in the moving image and extends to inter-disciplinary projects working closely with dance and animation, and was a participant in the inaugural MIDSUMMA FUTURES a nine-month development program for emerging queer artists/performers. They have written for Archer Magazine exploring homophobia/transphobia across their birth country, Iran. Blame the Shadows worked with Lara Thoms to explore methods to visually and lyrically convey sensitive stories where core creative innovation is driven by the necessity for identity-concealment.

Internship – Kitty Malam
Kitty is a performance maker currently completing her BA at Monash University. She is interested in crafting experiences that are immersive, interactive and site-specific, working with non-theatre performers and creating work for non-theatrical audiences. She has previously worked as a director and performer in youth & student theatre, science communication and educational-theatre, co-founding Canberra based theatre company Left Lane Outreach Theatre. She has recently been working alongside Fleur Kilpatrick as the assistant director on 'Slaughterhouse Five', to be presented at Theatre Works in April, 2019. 

2018
Mentorship – PEOPLE.ARTIST.PLACE
APHIDS mentored emerging curators People.Artist.Place as they embarked on a large scale commission for the City of Brisbane. Artistic Director Willoh S. Weiland worked with the curators Marisa and Jenna and 7 project participants over 12 months, travelling to Brisbane for 3 intensive periods conducting masterclaseses in site specific analysis, structuring large scale projects and creative producing.
2017
Internship – Meg Wilson
Meg Wilson was mentored by APHIDS Artistic Director Willoh S.Weiland. This included 5 mentoring sessions focused on transforming her design practice to focus on the integration of performance. She was supported to travel to Melbourne for the Crawl Me Blood preview presentation in the Royal Melbourne Botanical Gardens – where she assisted in developing design, lighting, set and video elements.
2016
Internship – Danielle Reynolds
Danielle Reynolds worked with APHIDS on parade project Howl as part of the Festival of Live Art, 2016.
2015
Mentorship – Hannah Bronte
Indigenous Artist Mentorship recipient Hannah Bronte was mentored by Kate Geck and supported with residency space through Footscray Community Arts Centre for her work in the 2016 Next Wave Festival.
Internship – Jasmine Proust
For her internship with APHIDS Jasmine undertook research into connections between Australia and the Caribbean for Crawl Me Blood. Research was undertaken via the Internet at Headquarters, as well as collections at the Melbourne City Library, The State Library of Victoria and at the Docklands Library during a weeklong residency.
2014
Mentorship – Eugenia Lim
As part of the Forever Now project, Eugenia Lim was mentored by lead artist and curator Willoh S. Weiland. Lim assisted with the collation of video artworks for the project and correspondence with key artists. 
Internship – Rebecca McCauley
In 2014, Rebecca McCauley collaborated with Lz Dunn to produce a 50 page publication based on the creative processes and research behind her Flyway project. The book was launched at the Wheeler Centre in April and has been distributed to peers and presenters from Australia and abroad at local and international meetings.
Mentorship – Dylan Sheridan
Tasmanian artist Dylan Sheridan was mentored in new partnership with Next Wave. Continuing his association with APHIDS, Dylan was mentored by Martyn Coutts and Willoh S. Weiland, towards the presentation his critically acclaimed work, Terminal, as part of the Next Wave Festival.
Secondment – Robyn McPherson
Aphids offered a Stage-Design Secondment to Robyn McPherson working on APHIDS' major performance presentation for the year, Game Show, which premiered at the Festival of Live Art (FOLA) in March. Robyn worked closely alongside the show's Assistant Designer, Yvette Turnball, throughout the performance season.
2013
Secondment – Alistair Watts
Alistair worked as a performer and props designer with APHIDS during the CultureLab development of Game Show at Arts House.
Aphids Indigenous Mentoring Scheme – Jason Davidson
Mentee is Jason Davidson a new media artist based in Bakewell, NT. He was be mentored by Cairns-based designer Leigh Harris.
2012
Intern – Mark Pritchard 
Emerging artist and producer Mark Pritchard worked to assist Willoh S.Weiland to help deliver a specific project in the APHIDS program as well as assist in the day-to-day operations of the company. The yearlong internship focused on the production of the major Forever Now project and enabled Mark to develop professional producing skills.
Mentorship – Zoe Meagher
APHIDS supported Zoe Meagher to present a new work Goodbye, CSIRAC at the Melbourne Museum in May at the 2012 Next Wave Festival. Artistic Director Willoh S.Weiland worked closely with Zoe on her performative audio tour, providing textual and dramaturgical support.
"As the first major project I had attempted as a solo artist, Goodbye, CSIRAC was ambitious and intimidating. I didn't know where to start – but Willoh did. As I devised content, Willoh shaped it into a cohesive whole, and so Goodbye, CSIRAC grew from a personal challenge into a shared joy." – Zoe
Secondment – Dylan Sheridan 
In December 2012, Dylan Sheridan was seconded to the company to work on the development of a new collaborative project, Trouble In Paradise. Dylan is a Tasmanian composer who works across opera/staged music, chamber music and electronic music, both acoustically and in complex programming environments like Pure Data.
2011
Aphids Indigenous Mentoring Scheme – Don Bemrose
Don Bemrose is Australia's foremost male Aboriginal classical artist. Don grew up in a small hinterland town on Queensland's Sunshine Coast and is a proud Gungarri man whose family hail from the Cherbourg Aboriginal Community. At the age of 13, Don, with inspiration from his Nana (respected Elder Aunty Ruth Hegarty) discovered the story of Aboriginal Tenor, Harold Blair. This began his passion for the classical voice and lit his desire to perform around the world. Don received a cash contribution towards artistic expenses, and tailored mentoring by APHIDS' Artistic Associate Margie Mackay.
Secondment – Rachel Feery
APHIDS was joined by Rachel Feery for Wilderness Lab, as part of the Atelier Edens Project. This secondment for an emerging artist gave Rachel the opportunity to collaborate with local and international artists at the luscious Point Nepean National Park.
Mentorship – Ben Landau & Anna van Veldhuisen
Artists Ben Landau and Anna van Veldhuisen were mentored through the Supermassive program to develop their work House Proud, which debuted as part of Brisbane Festival in September, 2011.
2010
Aphids Indigenous Mentoring Scheme – Maurial Rose Spearim
Maurial Rose Spearim was mentored by APHIDS Artistic Associate Margie Mackay, in the creation and performance of a humorous new cabaret work – The Black Cat – exploring issues related to Indigenous stereotyping. 

REMOTE SENSE – Residency & Mentoring – Kristin Rule & Antoinette J. Citizen
In collaboration with Punctum and Castlemaine State Festival Aphids assisted 2 young and emerging Australian artists working with the moving image to undertake unique professional and creative development hosted by Punctum at its Incubator space. Kristin Rule was mentored by Paul Fletcher and Antoinette J. Citizen was mentored by Miles Bennett; both working towards new work which debuted at the Castlemaine State Festival in 2011.
Next Wave – Mentorship – Ed Gould, Lisa Stewart & Rachel Feery
Ed Gould, Lisa Stewart and Rachel Feery were assisted through Supermassive in their development of Sunset Over Cardboard Mountains, a new collaborative work for the upcoming 2010 Next Wave Festival. Through the APHIDS Residencies and Mentorship Program, the artists were be mentored by writer/director/performer Margaret Cameron. Seated within your very own cardboard box, Sunset Over Cardboard Mountains takes the audience on an experiential journey across imaginary plains, combining the storytelling capacity of live instrumental music with evolving visual effects.

2009
Hybrid Arts Residency, Radialsystem V Berlin – Residency – Lara Thoms
As the recipient of the 2009 Residency opportunity Lara spent time at Radialsystem V, Berlin, and also presented her new media work, and video goggles at the Hybrid Arts Fest as part of the Asia-Pacific Weeks. As part of the Australian Hybrid arts festival, Lara showed her work to an audience of forty people, delivering a performance lecture centred on a false history of the Arts Centre, bringing attention to the forgotten spaces, quirky communities and everyday oddities in the building. She performed a thirty minute work with a series of digitally manipulated photographs, props and costumes. 
CIA Residency, Perth – Residency – Matthew Gingold
As the recipient of the Tactical Media Residency, offered in partnership with the CIA (Centre for Inter-disciplinary Arts) Perth, Matthew Gingold travelled to Perth in September – October 2009. Gingold's new media work is concerned with perception, performance and the intersection of the body with technology in a multiplicity of contexts. CIA Studios is an initiative of tactical media group, the pvi collective.
The National Art Studio, Changdong – Residency – Jeremy Neideck
Jeremy Neideck was supported by APHIDS as an artist in residence at The National Art Studio, Changdong, South Korea, and a student of Pansori (Traditional Korean Opera) at The National Theater of Korea. His project Strange Earth was the culmination of his ongoing experiments with the interaction between film and dance, and the convergence of his Butoh Dance practice with Pansori. Using pieces of Ted Hughes' 'Gaudete' as inspiration; Jeremy, along with artist Park Jong Hyon, created an interactive video installation and live art performance.
APHIDS 'Choose Your Own Adventure' – Residency – Sam Routledge
Through his APHIDS Residency at the Australian Model Railway Association Sam explored miniature puppetry and model railways. He developed a new work, Onlooker, a miniature puppetry performance, performed on a model railway layout from the Australian Model Railway Association set in a small country town and its surrounding countryside.
Koelse Studios, Finland – Residency & Mentoring – Ross Manning
Ross Manning was mentored in Helsinki and Berlin to install a new work Sunshine and Zincaloom at Ptarmigan art space, Helsinki.  The installation was developed in Berlin and built on site at the gallery space with local tree branches and electronics and featured a performance in the gallery space with custom light sensitive electronics along with Koelse artist, Nomo.
2008
Next Wave Festival – Mentorship – Willoh S.Weiland
APHIDS supported Willoh S. Weiland to present her new work Yelling at Stars at the Sydney Myer Music Bowl in May at the closing night of the 2008 Next Wave Festival.
Bains::Connective in Brussels – Residency – Clare Watson
As part of the APHIDS Residency and Mentorship Scheme, artist/theatre director Clare Watson undertook a residency at Bains: Connective in Brussels in April 2008. Clare created The Museum of Some Times, site-specific visual art installations in the former bathhouses inspired George Perec and Walter Benjamin. Moments in time were arranged chronologically in a meticulous filing system,  surrounded by a ramshackle museum which disregards the human desire to order events into timelines. As part of the Residency, Clare trawled flea markets and scavenged people's rubbish to put together an associative museum which is linked to Les Bains, Forest, Brussels and Belgium to large political events in history.
Midsumma Festival – Mentorship – Richard Haynes
Richard was mentored through APHIDS in the development of his new work Listen my secret fetish, first performed at Midsumma Festival in 2008.

2008
Bains::Connective in Brussels – Residency – Dario Vacirca
As part of Aphids Residencies and Mentoring Scheme, Dario Vacirca undertook an artist residency at Bains::Connective in Brussels. You can read about Dario's project with sheep on his blog here.

RealTime – Residency & Mentorship – Simon Charles
In partnership with RealTime, the magazine promoting innovative Australian art to the world in print and online, APHIDS offered a residency for an emerging Victorian reviewer in music and sound art. Part of the APHIDS Residencies and Mentoring Program for young and emerging artists, the residency took place in the form of a mentorship with a Victorian reviewer and two visits to Sydney to work with the editors of RealTime. Simons review of Liquid Architecture 9 can be read here.
BankART1929  – Residency – Louise Curham
Louise was selected to undertake a residency at the multi-arts facility, BankART1929, in Yokohama, Japan between May and June 2007, as part of the APHIDS Residencies and Mentoring Scheme.