Supermassive
Workshops & Labs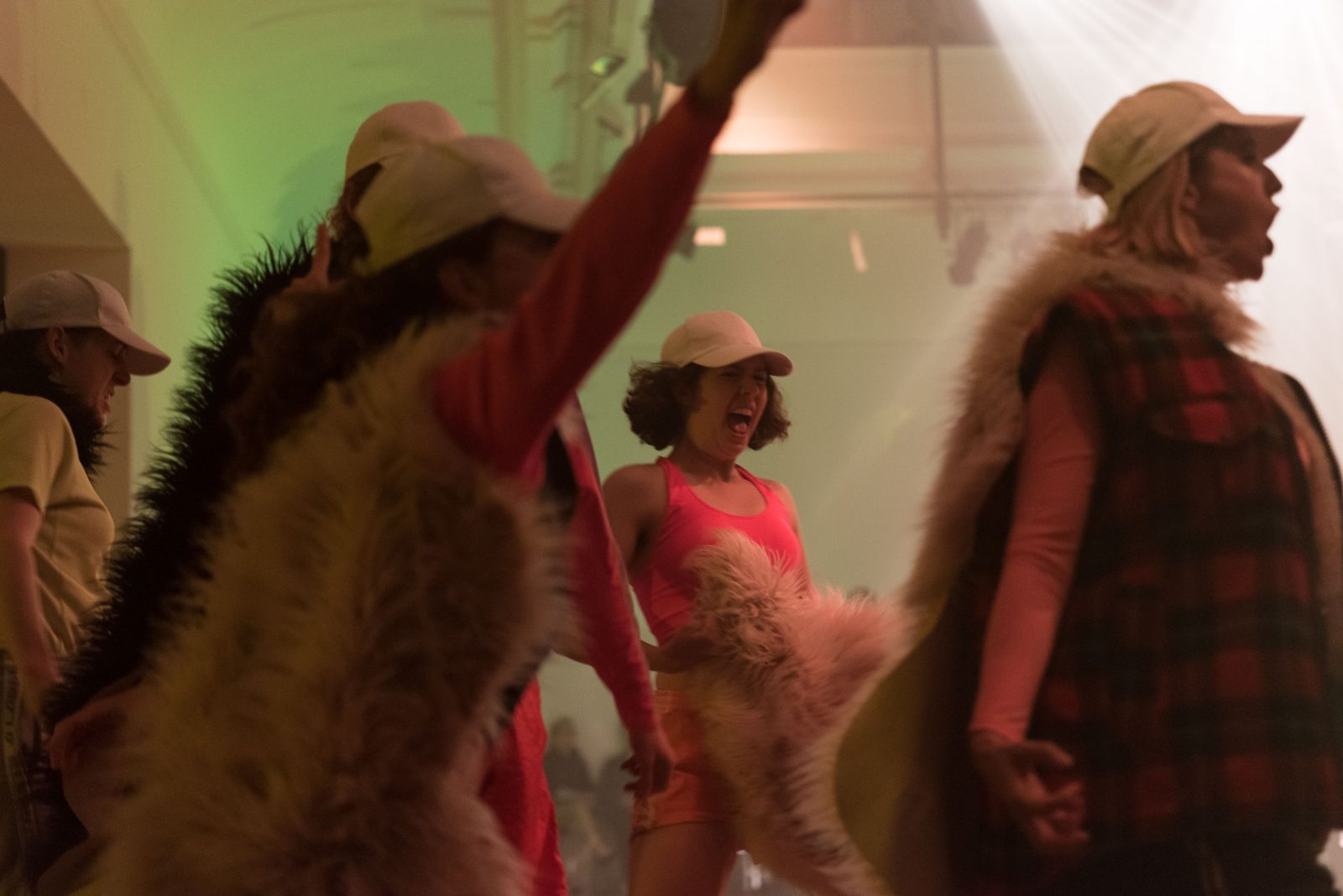 Workshops and Labs
As part of its commitment to supporting emerging artists APHIDS has hosted a number of workshops, labs and residencies. Examples of these include the 2018 Howl Artist Lab in Perth and the Last Night Now series.
2020
SUPERMASSIVE Drop-In's Online
APHIDS invited emerging experimental artists to book in for a free SUPERMASSIVE session on October 5. APHIDS sought form-disrupting Victorian-based artists in this sold out event to meet and discuss their practice with the co-directors in an individual (or collective) 30-minute session in a pandemic-friendly online format.
VITALSTATISTIX & APHIDS Howl Lab
In an exciting paid opportunity Britt Plummer, Chelsea Farquhar, Cynthia Schwertsik, Emma Beech, Felicity Boyd, Henry Wolff and Jo Stone joined the APHIDS team in presenting live performance work Howl in March 2020 at the Art Gallery of South Australia. A performance at the intersection of parade, protest and procession, Howl is a glorious celebration of controversy in the art world, and was performed over three nights with the generous support of Vitalstatistix, RCC Fringe and Arts SA.
2019
SUPERMASSIVE Drop-In Centre
APHIDS invited emerging experimental artists to book in for a free SUPERMASSIVE session on December 15. APHIDS sought form-disrupting Victorian-based artists to meet and discuss their practice with us in an individual (or collective) 30-minute session at Library at the Dock. We want to hear from you; to hear about your most radical artistic desires, the thorns in your projects, and to help connect you to the places, spaces and people to help you take your work to the next level.
'Having the chance to bounce ideas around outside my own mind was incredibly valuable. Thank you all for making SUPERMASSIVE happen. I had some really thought provoking takeaways from our chat to consider during my development' — SUPERMASSIVE Drop-In participant
2018
HOWL Artist Lab
APHIDS worked with four local artists  Loren Kronemyer, Jennifer Jammieon, Noemie  Huttner – Koros and Rhiannon Paterson as well as sound artist Rachael Dease over two weeks to recreate Howl for PICA, Perth. Together they devised two new sections of the work that responded to local art history and remade the performance for a gallery context. APHIDS also presented a guest lecture for students of WAAPA.
2017

Docklands library lab
Field Theory took up residence at the Docklands library to workshop ideas for their upcoming projects with local artists and community members.
2016
City of Maroonda developing arts projects
In 2016 APHIDS General Manager Rosemary Joy began a large scale contract with the City of Maroonda developing arts projects involving young people, children, Burmese refugees and people with disabilities. Based at Realm, Maroondah City Council's library, cultural, knowledge and innovation centre at Ringwood Town Square, the projects include installations, performance and workshops throughout the Ringwood Arts Precinct.
2012
Last Night Now
Last Night Now workshops used video goggles matched to live performance to create video artwork for all of your senses. APHIDS artists work with participants to direct, record, rehearse and present their own 'smell-o-vision' project. Participants have the opportunity to use video goggles, head mounted cameras, editing software and sensory props. Previous workshops have been delivered at Thornbury State High School, RMIT University and Signal.
"The workshop was amazing, It was a really cool idea and being able to do the whole process on a small scale was really interesting…" – Indigo York, workshop participant, SIGNAL.
2000
The Myer Residencies
In 2000, APHIDS approached the Myer Foundation to assist in creating a series of artists residencies, allowing the artists some breathing space to reflect, develop and experiment. The residencies culminated in a showing of works-in-progress at the Meat Market Arts House, which included the premiere of works, installation and performances. Artists and projects included:
Peter Humble — new composition for violoncello & electronics performed by Caerwen Martin & Mark Finsterer
Rosemary Joy —Puff performed by Vanessa Tomlinson
David Young — In an initial C for soprano, recorder & guitar performed by the Aphids Trio
Louise Curham — multiple super 8 projection installation
Since the completion of the 2000 Myer artist residencies, APHIDS has researched a range of models for providing support to innovative, independent artists and their projects. This is in response to the existing gap in infrastructure for artists who are working in a variety of collaborative and multi-faceted ways. The Myer residencies highlighted artists' need for organisational auspicing, as well as support with management, administration and mentoring.