Projects
2009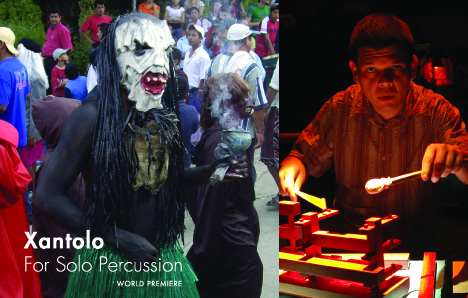 Melbourne Recital Centre
XANTOLO
"Just 15 minutes in duration, Xantolo begins with Aguilar immersing himself in a playful and almost childlike toying with the instruments at his fingertips. But gradually the mood deepens into a trance-like meditation on the feeling of sound.
At one point, Aguilar picks up a series of clay fingers and, fitting them to his own digits, proceeds to play them like xylophone keys. He dips bells into bowls of water, hums and sighs, in turn making the air around our ears wash and eddy.
For one moment, purple vibraphone in hand, he is a shaman. When he finishes, he wipes tears from his eyes. It's a performance that will stay with its audience for some time."– To read Liza Power's full review in The Age, click here.
"A window into another culture, [Xantolo] is thus a mirror onto our own." – Chris Reid, Realtime. Read the full review here.
A new work for solo percussion inspired by the Mexican Day of the Dead celebrations. The work has been created by Aphids artist Rosemary Joy and Mexican percussionist Evaristo Aguilar following visits to the villages of Tancoco, Tamalin and Tantayuca in the Huastecan area of Mexico. Xantolo means 'Day of the Dead' in the Haustecan language and will be performed to an audience of 20 people at a time.
Rosemary Joy's sculptural miniature percussion instruments have been performed in Australia, Belgium, Japan, Mexico, the Netherlands and Switzerland by some of the world's leading percussionists. Percussionist Evaristo Aguilar lives in the Huastecan region in North East Mexico. He regularly works with international contemporary artists and composers to create new work inspired by Huastecan culture.
CREDITS
Artist – Rosemary Joy
Performer – Evaristo Aguilar (Mexico)
Instrument Construction – Adam Stewart and Rosemary Joy
Supported by Arts Victoria, the City of Port Phillip and Universidad Autónoma de Tamaulipas Facultad de Música